What are all in 2 nappies?
All in Two (AI2) refers to the fact that the absorbent insert and the waterproof cover are two separate An All-In-Two nappy contains an insert that either snaps into place or lies within the waterproof outer layer of the nappy to provide protection.
When it's time to change, you may swap out the wet insert for a fresh one, which you can reuse a few times before cleaning.
This type of diaper is usually narrow fitting, making it a fantastic alternative for when you're out and about because it takes up minimal space in your changing bag.
A specific waterproof cover snaps or poppers over the absorbent portion of the product, making it waterproof. While the waterproof cover of a true all-in-two diaper is not in direct contact with the baby and therefore should not need to be changed at every nappy change (the wet or dirty inner nappy is removed and a fresh one snapped into place – so you need more inner nappies than outer covers), a lot of all-in-two diapers actually have some absorbency in the cover, and thus the entire diaper set must be changed every time.
All in One Vs. All in Two Nappies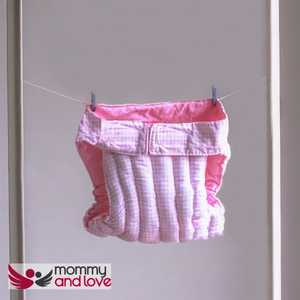 When it comes to cloth diapering, an All in One (AIO) cloth diaper refers to a diaper that is made up of both an absorbent cloth diaper and a waterproof diaper cover that are sewed together into a single unit.
All in Two (AI2) refers to the fact that the absorbent insert and the waterproof cover are two separate sections that must be snapped together in order to make a fully functional cloth diaper set.
When purchasing a full set of cloth diapers, an AI2 cloth diaper system will be a much more cost-effective solution. When you purchase an AI2, the interior and cover are shipped separately, allowing you to reuse your cover three to four times before washing it. This means that you only need roughly 6 waterproof coverings to cover a whole set of absorbent inserts (about 24 in total).
When all in two nappies are snapped together, they essentially become all in one nappy.
The advantages of AI2 nappies are they are simple to wash and dry, and there are no pockets to stuff. If the wrap is not filthy, you may be able to put a fresh insert into it, resulting in a reduction in the number of wraps required. However, Unless the inserts have elasticized sides, there is little to no containment. If the insert does not have a stay-dry surface, it may become quite wet when placed next to the baby's skin. Some brands require a little more effort to set up and utilize.
The advantage of AIO nappies is they are very simple to use because there are no pockets to stuff. Ideal for use in daycare facilities. However, It takes a long time for things to dry. Because the cover can wrap around the insides of the garment while being washed, it may not be as effective as it could be. The inserts cannot be washed or dried separately from the more delicate waterproof cover, which must be done together. It is common for covers to be the first component to wear out, rendering the entire nappy ineffective.
Popular All in Two Nappies
These types of nappies have really come to prominence in the last few years as they offer the convenience of all-in-one nappies, with the cost savings of fitted nappies. The category was really launched by the Flip system, though this is also classed as a hybrid nappy as it encompasses a biodegradable soaker option.
Modern all in two nappies include the Close Pop-in Nappy, The MOtherease Wizard Duo, Tots Bots Peenut, and Thirsties Duo.
What is an All in Two Fitted Cloth Nappy?
They are a mash-up of an all-in-two nappy (which has a waterproof layer and a snap-in absorbent core) and a fitted nappy which has no waterproofing and all layers are absorbent, these require a moisture-resistant cover). Note some people call these a hybrid nappy, however, that is confusing as a true hybrid nappy means one which you can use either a reusable nappy or a biodegradable nappy with, like Grovia or flip.
The main difference with an AI2 Fitted is that the Polyutherane Laminate (PUL) is replaced by a layer of Polar Fleece. An AI2 fitted NEVER contains PUL.
AI2 Fitteds are cleverly designed to act like an all-in-two whilst being as breathable and as absorbent as a fitted nappy.
The hidden layer (polar fleece) is moisture repellent – this means that the outer part of the nappy will stay dry until the absorbent core becomes saturated. As the polar fleece is completely breathable, moisture is able to wick away as well as assist the absorbent core does it job better by forcing fluid back into it. This layer of fleece helps the nappy to be more effective. The liquid hits the fleece layer and is deflected back into the absorbent inner, soaking up into the absorbent core. AI2 Fitteds can often be worn coverless from 2-5 hours, some parents have had success for longer periods such as overnight.
Once the absorbent core becomes saturated the polar fleece then becomes an extra absorbing laying as does the cute outer layer (often cotton jersey) – this gives one thirsty nappy! If extended wear is required the nappy will require a cover; fleece and wool soakers are the perfect complements to AI2 fitted but PUL wraps work too!
Why Choose An AI2 Fitted?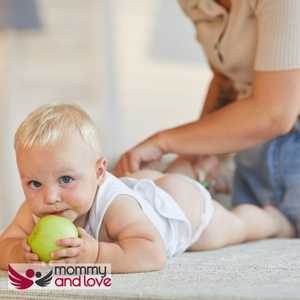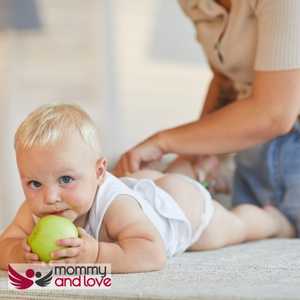 The AI2 fitted is still a "fitted" nappy, meaning it is breathable and kinder on your baby's skin.
The uninterrupted airflow to your baby's skin will help to maintain skin temperature.  This means your baby will remain comfortable with a touchably dry bum all the time!
The fleece alongside the Soaker system allows around 2-5 hours. Some successfully use AI2 Fitted as a nighttime nappy.  For longer periods just add a wrap/cover fleece, wool, or PUL.
How Do They Fit?
These are front fastening nappies that can be adjusted by a fold-down rise. An AI2 fitted usually features a tummy Touch Panel, which is a genius layer of cloth designed to protect delicate tummy skin from irritation and indentations that can be caused by the snap fasteners on the inner side.
This article was written by: Gian MIller – Full-Time Writer, Baby Whisperer & Dad of 3.
Gian spends a lot of his time writing. A self-proclaimed baby whisperer, Gian has been through it all with his own children and is passionate about sharing his hard-won wisdom with other parents. When he's not writing or changing diapers, you can find him playing the guitar or watching baseball (or preferably both at the same time).