Do you have a baby that loves to knead your breasts while nursing? If so, you're not alone! This is a common behavior for babies, and there's actually a good reason for it. In this guide, we will discuss the reasons why babies like to knead breasts while nursing.
When you're feeding baby, he/ she may massage or press their fingers or hands into your breast. This is called kneading, and it is common for babies, usually indicating that your baby is trying to get more milk from you.
We will also provide some tips on how to make sure both you and your baby are comfortable and happy during breastfeeding sessions!
Why Does Your Baby Knead the Breast While Nursing?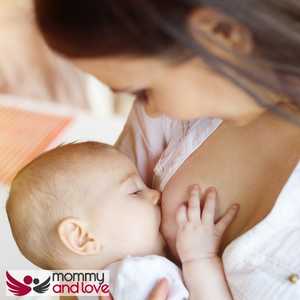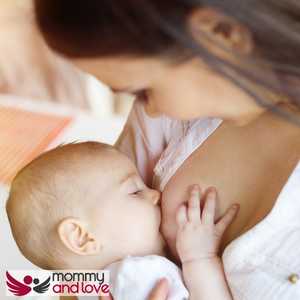 There are a few reasons why your baby may be kneading your breast while nursing:
-It helps them to latch on correctly. Your baby's kneading motion can help to create suction and a good seal around the nipple. This is important for proper breastfeeding technique and can help your baby to get more milk from each feeding.
-It feels good! Babies are born with a natural instinct to suck and massage. For some babies, the act of kneading breasts while nursing can be soothing and pleasurable.
-It helps them to bond with you. Breastfeeding is an important bonding experience for both mother and baby. The physical closeness and skin-to-skin contact can help your baby to feel safe and loved.
-Some babies will knead breasts before or during a feeding in order to help stimulate the let-down reflex. This can help to improve the mother's milk flow and milk production. If you have a low milk supply, it can help to increase the flow for baby.
Benefits of Baby Kneading During Breastfeeding
Many breastfeeding behaviors have a purpose, and experts believe that kneading has benefits during breastfeeding:
Kneading may help the baby to latch on correctly, stimulate milk flow, or express satisfaction.
In addition to being a feeding cue, kneading may also help baby to relieve gas or increase circulation in the baby's gut, relieving discomfort
Babies seem to knead more when they are going through a growth spurt or when they are trying to soothe themselves.
If you notice your baby starting to knead while feeding, simply continue nursing as usual. There is no need to worry unless the behavior becomes persistent or troubling in some way.
How to Deal With a Baby Who Likes to Knead Breasts
Breastfeeding can be a wonderful bonding experience for mother and baby. However, it can also be mildly annoying and frustrating when the baby continually kneads your breasts while feeding.
Your baby will feed more readily when he is relaxed and happy, so pay attention to his moods and try different things if he seems unhappy or uncomfortable. There are a few things you can do to deal with a baby who likes to knead breasts.
Feed him in different positions and see which one works best for him.

The most common position is the cradle hold, where your baby lies on his back on your lap, with his head on one side and his feet on the other side of your chest.
Another popular position is the football hold, where the baby's body rests on top of your arm while his legs rest over your forearm, which gives him a better view of what's going on around him while he feeds.

Hold your baby close skin-to-skin. This helps to calm both of you down, and it makes breastfeeding easier.
Wear a clean shirt without any perfume or deodorant on it in case your baby spits up milk or has a bowel movement while feeding.
Nurse in a quiet, dimly light area whenever possible.
Keep your baby awake when attempting to nurse him/her.
Switch breasts each feeding, so that each breast gets equal attention.
Additionally, it's important to avoid using pacifiers or bottles during breastfeeding sessions, as this can interfere with the baby's natural feeding cues. By following these simple tips, you can encourage your baby to latch on and start enjoying the benefits of breastfeeding.
Other Breastfeeding Behaviors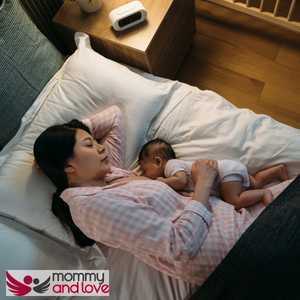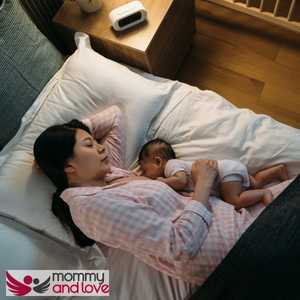 Older babies and toddlers will also display other signs when feeding which can be a sign that they are ready to move to the other nipple or even finish feeding.
Many babies will fidget, kick and push and its usually a sign something is up, or they could be just over stimulated!
Why Does My Baby Push on My Breast While Nursing?
In addition to kneading, some babies will also push on the breast while nursing. This behavior can be due to a number of factors, including:
-Your baby is full and ready to stop nursing. If your baby is pushing on the breast and trying to pull away from the nipple, it may be a sign that they are done nursing.
-Your baby is experiencing gas or discomfort. Breastfeeding can sometimes cause babies to swallow air, which can lead to gas and bloating. Pushing on the breast may help your baby to release some of this built-up gas.
-Your baby is teething. The act of chewing can be soothing for a baby who is cutting teeth. If your baby is pushing on the breast and chewing on the nipple, it may be a sign that they are starting to teethe.
Why Is My Baby Frantic at the Breast?
Another common behavior for babies is kicking the breast while nursing. This can be due to a number of different reasons, such as:
-Your baby is restless or fidgety. If your baby is squirming and kicking while nursing, it may be a sign that they are uncomfortable or unhappy. Try to burp your baby frequently during feedings to help release any trapped gas. You can also try rocking or bouncing your baby while they nurse to help soothe them.
-Your baby is experiencing a growth spurt. Growth spurts are common in babies, and can often lead to increased fussiness and feeding frequency. Your baby may be kicking the breast while nursing due to hunger.
-Your baby is overstimulated. Too much stimulation can be overwhelming for a young baby. If your baby is kicking the breast and seems to be getting agitated, it may be a sign that they need some time to calm down. Try Nursing in a quiet, dark room away from any loud noises or bright lights and the novelty wears off.
Most children will settle once you move to the other breast, move to a quiet room or finish the nursing session.
Tips for a Successful Breastfeeding Session
Whether your baby is kneading, pushing, or kicking, there are a few things you can do to help ensure a successful breastfeeding session:
-Make sure you have a good latch. A proper latch is important for efficient breastfeeding and can help to prevent pain and discomfort.
-Burp your baby frequently. This can help to release any gas that may be causing discomfort.
-Try different positions. Some babies prefer to nurse in a certain position, while others are more flexible. Experiment with different positions until you find one that is comfortable for both you and your baby.
-Relax and take your time. Breastfeeding can be a relaxing and enjoyable experience for both you and your baby. Take the time to bond with your little one and enjoy the moment.
Take Away for Making Nursing More Comfortable for Both You and Your Baby
There are many things a mom can do to attract your baby to breastfeeding and encourage him or her to develop a good breastfeeding habit. Baby kneading is a very natural action that gives both baby and mothers a lot of benefits, especially during lactation.
As new parents it can be hard to work out how to breastfeed and deal with the different types of breastfeeding behaviour, but remember your baby is not talking yet and until they become a toddler and can talk, squirming, kneading, kicking and pushing are how they are communicating with you.
Just take your time to read their cues and see if she's hungry, wants to eat or play or sleep or just have fun!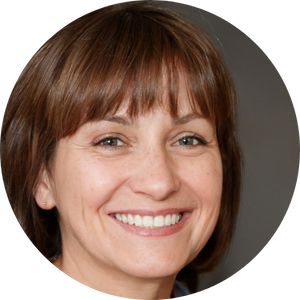 This article was written by Sandra Baker – full time writer and the mother of four amazing kids (including twins!)
She's also a breastfeeding counselor and has spent years helping new parents learn how to care for their children. When she's not writing or caring for her children, Sandra likes to spend time reading and taking walks with her husband.