Yes, you can wash reusable nappies with other clothes! In fact, many people do this to save time and energy. It is important to make sure that the water temperature in your washing machine is not too hot or cold when washing your reusable nappies in order to avoid damaging them. If the water temperature stays in a range of 40-60 degrees Celsius then it will be safe for your baby's skin and there won't be any negative effects on the fabric either.
Why wash your cloth nappies with other clothes?
If you are in the thick of full-time cloth nappy usage you are probably wondering why would anybody want to wash their nappies with their other clothes? Let's face it, they can fill a nappy bucket and wash load on their own quickly enough! But, there are lots of times parents need to do this, both at the start and end of their cloth nappy journey.
New Cloth Nappy Users
If you are new to cloth you might have just bought a trial pack with a couple of nappies in it. Or you might have a cloth nappy hire trial pack for a week or so to try a few different types.
In these circumstances, it is highly unlikely you will need a full load before you need to do the nappy wash. Also if you are only renting for a week or so you really want to wash and dry them asap so you can get more benefits out of the nappy hire.
Until you build up your full nappy stash, it might make more sense to wash with your normal clothes. Not everyone can afford to get a full set of 20 nappies or whatever, right off the bat! Your cloth diaper wash routine is really dictated by the number of nappies you own so if you have dirty nappies that need a wash, its better to wash cloth diapers than leave them sitting for days on end. Soiled nappies really should not be left longer than 2-3 days so it makes more sense to wash a half load of your cloth diaper laundry with your regular wash rather than leave them sitting in a bucket or wet bag for longer.
Old Cloth Nappy Users
If your child is approaching potty training, then you might only have 1-2 nappies a day and once again be a part-time nappy user. If you are in the midst of potty training then you might have plenty of accidents to keep your machine busy anyway.
Alternatively, if you have an older child who is potty trained by day, they may still need to wear nappies at night and it makes total sense to throw this one nappy in with whatever washing load you are putting on that day.
New Nappies
If you have brand new nappies, it makes sense to throw them in with your tea towels or other baby clothes, there is no need to throw them in with a nappy wash. Some nappies, like hemp or cotton, need prewashing up to 10 times before they come to full absorbency and these can be washed with any other nappies.
When not to wash your nappies with other clothes?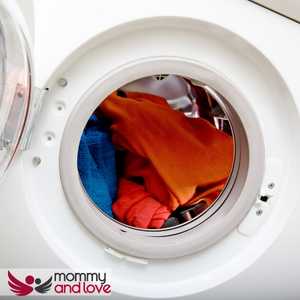 There are some situations where you should not wash your nappies with other clothes. Generally, this is after a live vaccine shot or if your child has a yeast infection.
In these cases, it's vital to sanitise your nappies with a deep clean and not to wash with your general wash load.
Do you wash cloth nappies separately?
Generally yes you wash your nappies away from your normal wash loads. A child in full-time cloth nappies will create a full load of washing about every 2 days and this is usually washed on its own.
In some circumstances, you might need to wash certain nappies separately, away from other nappies. Brand new hemp nappies release hemp oil which can cause issues for hook & loop (velcro) closures, so for the first 10 or so washes, ensure you wash any hemp products separately to nappies with velcro closures. Some people say this about bamboo nappies, but its false, they are effectively synthetic nappies and have no natural oils left in them.
Things to Note if Washing Nappies with Other Clothes
You should never ever use fabric softener on reusable nappies so ensure you don't.
Some nappy manufacturers suggest not using bio detergent washing powder on their cloth nappies. This point is highly debatable but it's usually best to follow manufacturers' guidelines when it comes to washing powder usage.
Some clothes may run, so remember to do your colour fasts separately and do light coloured nappies with light coloured clothes!
PUL and some nappies can be quite delicate. If your clothes have a lot of buttons or zippers or anything that can damage your pul wraps and pocket nappies, it may puncture the pul and cause it to leak. So avoid washing this.
If you have hook & loop nappies, remember to use the velcro closures but even then, I would avoid putting these in with silks or fancy clothes which may snag on them.
You might want to put the nappies on a pre-wash on their own before you add the rest of the laundry in for the main wash cycle. This will allow you to sluice out any residue baby poo.
You may have too much detergent on your other clothes, and the last thing you want to do is strip wash your nappies because you have mingled washing. If this is the case, remember to do an extra rinse cycle at the end.
You might want to wash your nappies on a hot wash, and not of your regular laundry will be able to take a hot wash! Check which ones are suitable.
Big towels are great to wash with nappies and when my youngest was potty training my wash routing because washing nappies and towels together.
Also remember if you use cloth sanitary pads, these can be washed with nappies. Over the years I've found many mothers have switched from disposable menstrual pads to cloth ones once they realised how easy it was.
Washing diapers really is just like washing the rest of your baby clothes, especially if they have had a massive blowout! If there is poo on your baby clothes, or they are just heavily soiled I always recommend an initial rinse first, with bio detergent or non-bio detergent, whatever you normally use. Stain removers aren't great for nappies and it is better to put them out in the sun to help get the poop stains out.
If you are putting your washing machine on and you have some dirty nappies sitting in your diaper pail, then pop them in with the wash load. As long as you have checked and everything can be washed together.
Take Away
Generally yes you wash your nappies away from your normal wash loads. A child in full-time cloth nappies will create a full load of washing about every two days and this is usually washed on its own. In some circumstances, you might need to wash certain nappies separately, away from other nappies.
Always do a pre rinse first and a full dose (not half dose) of powder to ensure everything comes out smelling clean. If you feel you have detergent build up (can happen even in the washing machine drawer) then change your wash routine to ensure you are cleaning it out or do a strip wash more frequently.
You can also tumble dry most nappies on low with your clothes!
This article was written by: Gian MIller – Full-Time Writer, Baby Whisperer & Dad of 3.
Gian spends a lot of his time writing. A self-proclaimed baby whisperer, Gian has been through it all with his own children and is passionate about sharing his hard-won wisdom with other parents. When he's not writing or changing diapers, you can find him playing the guitar or watching baseball (or preferably both at the same time).