In this guide, we will explore different ways to properly store diapers and whether or not storing them in your garage is a good idea.
When storing baby diapers, it is important to keep them in an air-tight and climate-controlled environment. This will help prevent the diapers from becoming ruined or damaged. It is also best to store them off of the ground, and in their original packaging if possible. You don't want to store them in a storage unit or garage that is not climate-controlled.
What Is the Proper Way of Storing Diapers and Baby Wipes?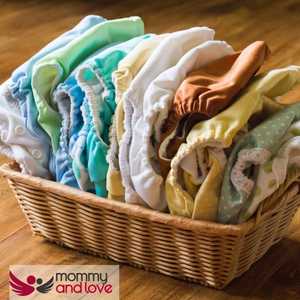 Parents have a lot of things to think about when it comes to taking care of a baby. One of the most important, yet often overlooked, is where to store wipes and diapers.
There are a few different options for your baby diapers and wipes.
Diaper Bag
A diaper bag is a great option for keeping baby diapers and wipes. It is your new best friend especially when you are on the go. It typically has a lot of compartments, which makes it easy to keep everything organized.
Diaper bag compartments can be a real-life saver when it comes to organizing your small items. Instead of having to rifle through each pocket every time you need a pacifier or a cotton bib, put them in their own separate pouches or containers.
This will make things a lot easier for you and will help keep your diaper bag organized.
Another way to keep your diaper bag organized is to use zipper pouches. Zipper pouches are great for storing small items such as pacifiers, bibs, wipes and other baby stuff.
They help keep things tidy and make it easy to find what you're looking for. Plus, they're reusable so you can use them over and over again.
Wall Storage
If you're short on space, look for wall storage options such as wall box shelves or open shelving. You can also attach a pegboard to the wall over the changing table and use it to store shelves and metal crates.
Another option is to hang bags from the door or use vertical and horizontal shelves for diapers.
Diaper Caddy
Diaper caddies can be sat on a dresser or changing station and then taken around the house as needed. They come with storage for diapers, wipes, ointments, baby clothes, small toys to occupy the baby during changing time, etc.
Changing Table
If you're looking for a way to put all of your baby's essentials, consider using the space above the changing table. You can hang baskets, like wire baskets, on the space in order to stash baby diapers, wipes, creams, and lotions.
This is a great way to use vertical space when you're short on room, or when you don't have a lot of space in the dresser drawers. Plus, it keeps everything organized and within reach.
Storage Baskets
Using storage baskets is a great way to stash diapers and baby wipes. You can either put them in the closet or in a room where the baby spends a lot of time. This will keep them organized and easy to find when you need them.
Can You Store Your Baby's Diapers in the Garage?
If you're like most parents, you go through a lot of diapers. And, if you have more than one child, you can go through even more diapers.
The garage seems to be a good storage place for your unused diapers. The temperature in the garage is usually pretty consistent, which can be good for keeping diapers fresh. Plus, it's out of the way and won't take up space in your house.
However, diapers regardless of whether they are unopened or opened should be stored in an air-tight container and in a climate-controlled environment whenever possible.
If you are planning to stash your unopened diapers in your garage, you should consider the potential of mold and mildew growth. Most garages are closed spaces which means they are usually humid and moisture provides the perfect environment for molds and mildew to thrive.
When diapers are stored in a warm, moist environment like the garage, molds and mildew can form and cause health problems for your child. Molds and mildew can also cause the diapers to lose their absorbency, which can lead to leaks and messes.
In addition, the garage is typically not a very clean environment, and you don't want your baby's diapers to be exposed to dirt and dust.
Additionally, if your garage is not climate-controlled, some components of the diapers such as glue and elastic parts may melt during hot weather conditions. If the components of the diapers start melting, it compromises their quality, they become less absorbent and therefore no longer recommended for use on babies.
What Temperature Should Diapers Be Stored At?
This information should be included in your diapers' packaging.
Pampers recommend storing your diapers in an area protected from extreme heat and humidity, preferably 85 degrees Fahrenheit or less. High heat can potentially melt diaper components such as the adhesive tape on disposable diapers.
Keep disposable ones away from products with fragrances to protect their quality as well.
Where Do You Store Diaper Stockpiles?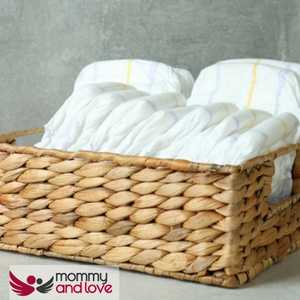 Cupboards and under the bed are great places to store diapers, as they offer a temperature-controlled environment.
You can also put them up on pallets or on shelves as well as in your baby's closet. Diapers store the best if they are still in their original package.
If you don't have space in closets or under the bed, basements make for an ideal diaper stockpile location. These places are both safe for disposable and cloth diapers.
Basements do not experience extremely hot temperatures in the summers as the ground surrounding the basement is cool. Also, normally they do not let much or any sunlight, thus keeping your diapers safe.
Even in harsh winters, basements are generally warmer in comparison to the outside temperature. This keeps your diapers safe from extreme weather conditions.
However, the big disadvantage of keeping your whole stockpile of diapers in the basement is it is the first place to be flooded during extreme weather conditions. You need to keep diapers dry at all times.
Stashing them in your basement if you live in an area that is prone to flooding may not be a good idea because they can potentially get wet or dirty.
How to Store Cloth Diapers for Long Term-Storage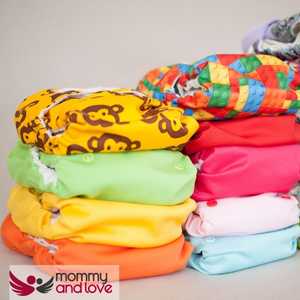 When storing cloth diapers, it's best to keep them in a temperature-controlled room instead of in an attic, basement, or garage.
You can put them inside pillowcases on a shelf in a closet or store them informally in a dresser drawer or basket. They should not be stored air-tight or in plastic.
It is ok to store diapers in box containers, but be sure to leave enough room for air circulation and check on them periodically. It's important for a cloth diaper for infants to breathe every once in a while to prevent elastic components from disintegrating.
It is also good advice to give them a round of washing before using them for your next baby. And of course, wash them for putting them away.
Conclusion on Storing Diapers
It is important to keep diapers in a temperature-controlled environment. This will help protect them from extreme heat and humidity, which can cause the adhesive on disposable diapers to melt, and components of cloth diapers to disintegrate.
If you have leftover diapers, put them in a plastic bag or container. Always store extra diapers in a cool, dry place as much as possible to keep them in good condition and increase their shelf life.
Stashing baby disposable diapers away in the garage is never a good idea for a variety of reasons. One of these reasons is the potential for mold and mildew growth which can affect the integrity and quality of the diapers.
FAQ
Should I Stock Up on Diapers Before the Baby Is Born?
If you're looking to save some money in the long run, building a diaper stockpile is a great way to do it! Diapers can be expensive, so it's helpful to have a few months' worth of them on hand. Not only will this help you save money, but it will also mean that you won't have to worry about running out of diapers in the middle of the night!
Before you build your stockpile, make sure to shop around different stores and buy diapers when they are available at the best prices.
How Many Diapers Should You Stockpile?
The average newborn may produce a lot of poop and pee several times a day. Usually, they go through 8-12 diapers a day. Depending on the weight of your baby, you may not need newborn diapers for long, so it's not recommended to stockpile them. Your best bet is to stockpile a large quantity of the larger sizes.
Keep in mind that there are many different types and sizes of diapers that's why diapers vary in price per packaging and stores may offer them at different prices too.
You can always add different diaper sizes to your baby's registry so you will have a diaper reserve on each diaper size. If you prefer a particular brand, you should indicate this as well.
Another factor to consider when stockpiling diapers before your new baby arrives is space. If you don't have that much space for stashing your diapers, you might want to limit how many boxes or packages of stockpile diapers you want to purchase.
Moms should also keep an open mind to the possibility of their children being sensitive to a particular brand of diapers or if this brand doesn't fit right.
If you have a close family member or friend who has parenting experience, you can ask for advice and tips.
This article was written by: Gian MIller – Full-Time Writer, Baby Whisperer & Dad of 3.
Gian spends a lot of his time writing. A self-proclaimed baby whisperer, Gian has been through it all with his own children and is passionate about sharing his hard-won wisdom with other parents. When he's not writing or changing diapers, you can find him playing the guitar or watching baseball (or preferably both at the same time).