There are many reasons why people might use reusable nappies. Some parents may want to reduce their environmental footprint, while others simply enjoy the convenience of it. There is a lot that goes into choosing the right bag for your needs and we're going to talk you through the essentials!
What should I look for when choosing a changing bag?
When considering a bag for cloth nappies, there are a few key considerations that you must take into account. The most obvious being size and a wet bag for your wet reusable nappies and wipes.
When you use single-use plastic disposables, you usually just dump them wherever you change your baby. But reusable nappy users need a change bag that will have space for all your essentials, spare clothes, etc, AND somewhere to store the dirty cloth nappies.
Several cloth nappies, liners, a spare wrap, and wet bags for dirty nappies, as well as anything else you might need, seem to me to be insufficiently large in the most affordable changing bag.
Another aspect to look out for is the size of your changing bag. The amount of equipment you'll be carrying will determine the size that is right for you, so it's important to consider how big or small you want this bag to be. You may also need more than one sized changing bag depending on where you're going and what time of year it is!
What else should I look for?
There are a few other things you should think about before choosing your changing bag. The first is how many pockets it has, as this can influence its ease of use and practicality it. Some bags come with hundreds of little compartments that help keep all items organised which makes life much easier! You'll also want to consider the number of internal and external pockets a bag has to make sure it's suitable for your needs.
Lastly, you should think about how easy it is to clean if there are any stains or spills on it which can be common with young children! Many changing bags come with anti-bacterial linings that help keep them hygienic.
What kind of changing bag do I need?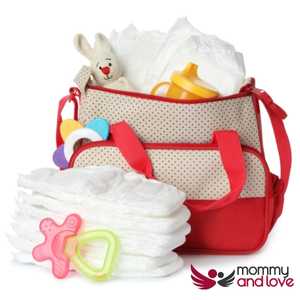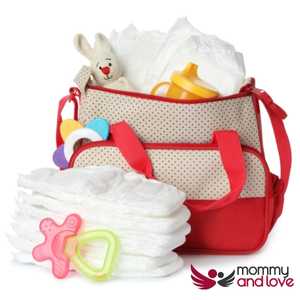 We recommend choosing a high-quality, multi-functional changing bag that has plenty of pockets to keep you well organised on the go!
Whatever your budget or lifestyle, there is something here for everyone.
From luxurious leather bags with multiple zips to cheap and cheerful options with stylish prints, there is something out there to suit any need or taste.
We've found most parents love the freedom a shoulder bag gives when it comes to the ideal nappy bag. Beyond change bag, reusable nappy users need the space this offer. Most baby changing bags are really limited in size and they just don't cut it for cloth nappies.
Wet Bag For Cloth Nappies
Let's face it, if you are using reusable nappies one of the most valuable things you will need when out and about is somewhere to store your wet reusable nappies. Unlike disposables, you don't dump cloth nappies, so any bag needs to have ample room for both clean and dirty nappies as well as all your essentials.
The wet bag will usually be separate from the baby changing bag. Some will include it as an accessory (many do, so always check the accessories list). Some, like the Bambino Mio nappy changing bag, will have a separate compartment included within the fabric of the bag. However, I'm not sure if I am a fan of this, as wet reusable nappies can get pretty yucky. I'd probably still put them in a wet bag inside this compartment.
In the house, you put the soiled nappies into a free drawstring messy bag inside your bucket. But a zipped wet bag to store them, and reusable baby wipes are essential for cloth nappy users.
Ultimate Baby Change Bag – Plenty of Zips and compartments
When deciding on a bag, the number of zips is really important for accessibility. If you have different items in your changing bag they should be easy to find. There are bags that only have one large compartment with a few smaller pockets inside it which might not suit some people's needs as well as those who want a bag with loads of zips and compartments. A backpack allows you hands-free freedom which is vital when out and about!
The most important thing you need to consider is how much you want or need from your changing bag as this will define which one is suitable for you.
Essentials for all Nappy users
Water-resistant outer fabric is the best for any type of nappy user, but make sure they are made from BPA-free fabrics.
Shoulder strap – so you can convert your bag into a shoulder bag.
Free pram clips/stroller clips – most should come with a set of these so you can attach the bag to your pram.
A messy pocket with waterproof lining – ideal for storing your messy stuff like bibs and wipes.
Changing mat – always a good idea to have one of these as you never know when you need it! The better the bag the comfier these tend to be but really anyone is fine as you usually just lay on top of ones in the baby changing room.
Parent pocket – too often the manufacturers think just about all the bay items needed but you need some internal pockets for your purse, phone, and other easy to lose items for you.
Insulated pocket – ideal for keeping milk warm or drinks cold depending on what is needed.
A cool pocket – great for keeping snacks fresh.
Spacious main compartment in the main bag – where you can keep spare clothes, enough space for nappies, and other emergency change essentials.
Internal drop-in pockets with easy access- to keep smaller items in and easy to find.
Wash bag – ideal for everything from washable nappies to potty training pants when you get out of that stage. Nappy bags should really grow with you, and really you need to think of changing bags as just bags for you for the next 5 years. Whilst it might start out as a baby changing bag, it sooms becomes the toddler moval bag and then a bag for all the family. A bag that will see you through meltdown moments and precious time.
Check for plenty of internal pockets, you will need at least one or two zipped ones for your money, keys, and phone.
I'm sure there is a lot more we could say about changing bag essentials but these are the main things I think parents should look out for when choosing which baby nappy changing bag to buy.
Streamline stylish look – consider using the bag for baby and beyond, I loved my stylish pink lining bag and used it for years afterward for swimming lessons etc when I was no longer a cloth nappy user.
Best Changing Bag For Cloth Nappies
Overall, with all things considered we've narrowed it down to two and really it just comes down to style.
Bambino Mio Changing Bag For Functionality
From newborn to toddler, hospital to school, and beyond, this is the best baby changing bag for reusable nappy users. It is compatible with cloth nappies and has enough space for all of your requirements. It has four very useful pockets, the changing pod, the parent pocket, the feeding pod, and the messy pocket.
Whilst this is a very functional bag, it's top-end on budget and it's just, well not very pretty! Overall though the
Pink Lining Backpack Changing Bag For Style
I love the size of the pink lining bag which has 2 large elasticated pockets in the main compartment. It has all the inbuilt messy pockets and stroller clips etc but most important it has enough space for longer trips or cloth nappy users. It's very stylish for ideal for those new parents who want to keep a bit of fashion and me in the bag selection! Pink Lining Wonder Bag Backpack
Viedouce Baby Changing Bag For Budget
Very simple streamlined bag with plenty of pockets and apartments. Very large capacity so ideal for reusable nappy users. Very lightweight but durable weighing only 830g and a great sub £30
Take Away
Choosing the best changing bag for cloth nappies can be difficult, but it's important to consider your needs and what you want or need from your changing bag as this will define which one is suitable for you. The essentials are a water-resistant outer fabric, shoulder strap so you can convert your bag into a shoulder bag, free pram clips/stroller clips – most should come with a set of these so you can attach the bag to your pram; messy pocket with waterproof lining great for storing bibs and wipes; change mat always good idea to have one of these as you never know when they're needed! Parent pocket too often manufactures think about all baby items but not enough internal pockets for purse phone other easy-to-lose items for you; insulated pocket ideal to keeping milk warm or drinks cold depending on what is needed.
Cool pockets great for keeping snacks fresh, plenty of internal pockets you need at least one or two zipped ones for your money keys phone, etc. Check the changing bag has a washable liner if not it may be difficult when using cloth nappies.
It's also important to consider the style of changing bag you want, a more stylish one with a sleek look or a practical sturdy solution that can carry everything from nappy change essentials for babies through to books and toys as your child gets older. Overall it really comes down to what suits you best so think about all these things when choosing which changing bag to buy.
This article was written by: Gian MIller – Full-Time Writer, Baby Whisperer & Dad of 3.
Gian spends a lot of his time writing. A self-proclaimed baby whisperer, Gian has been through it all with his own children and is passionate about sharing his hard-won wisdom with other parents. When he's not writing or changing diapers, you can find him playing the guitar or watching baseball (or preferably both at the same time).