When it comes to finding the perfect diaper size for your baby, there's a lot of information out there. With so many different brands and styles of diapers available, how do you know which one is right for your child? And what about the confusing size chart? This blog post and our diaper size guide will help clear up all the confusion and show you exactly how to find the perfect diaper size for your child. We'll also explain how diaper sizes work and give you some tips on finding the right size for your little one.
How Do Diaper Sizes Work?
So, how do diaper sizes work? Well, they're based on your baby's weight. The diaper size will indicate the range of weights that the diaper can accommodate. For example, a size Newborn diaper is for babies who weigh up to about ten pounds.
As your baby grows, you'll need to move up to a larger size. But how do you know when it's time to do that? One way to tell is by checking the fit of the diaper. If it's starting to feel snug or there are gaps around the legs or waist, it's time to move up a size.
Another thing to keep in mind is that diaper sizes can vary depending on the brand. So, if you're having trouble finding a good fit with one brand, it's worth trying another.
Tip: Avoid buying diapers in bulk for your newborn if you're expecting. Measurements differ between brands, and your child will most likely outgrow the N and 1 sizes soon. Purchase a few packs and perform some testing during the first few days of receipt.
Here's our ultimate diaper size guide you can use as reference:
| | | |
| --- | --- | --- |
| Diaper Size | Weight | Age |
| Newborn | Up to 10 lbs | First 2 – 3 weeks |
| Size 1 | 8 – 14 lbs | From birth – 4 months |
| Size 2 | 12 – 18 lbs | 3 – 8 months |
| Size 3 | 16 – 28 lbs | 5 – 24 months |
| Size 4 | 22 – 37 lbs | 18 – 36 months |
| Size 5 | 27 lbs + | 3 years + |
| Size 6 | 35 lbs + | 4 years + |
Disposable Diapers Sizes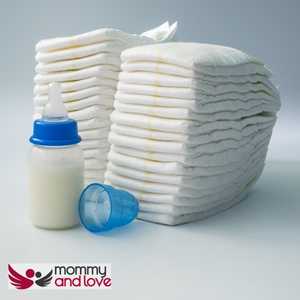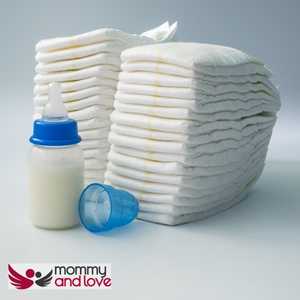 There are several reasons why disposable diapers are popular among old and new parents. One reason is that they come in a variety of sizes, so you can find the perfect fit for your baby.
Another reason is that they're very absorbent and have other materials which prevent leaks and keep your baby dry. And finally, they're easy to use – you can simply throw them away when you're done.
As a parent, you're always looking for ways to save money. And one way to do that is to buy the right diaper for your child.
There are three main sizes of disposable diapers: preemie, newborn, and infant. Preemie size diapers are for babies who weigh up to six pounds. Newborn diapers are for babies who weigh up to ten pounds. And infant diapers are for babies who weigh up to fifteen pounds.
Pampers
Pampers is the most popular brand of diapers for a reason. They offer a variety of sizes and absorbency levels to meet your baby's needs. Plus, they're easy to find in stores and online. So, if you're looking for a reliable diaper that will get the job done, Pampers is a great choice.
Pampers offers a variety of diaper sizes for newborns all the way up to toddlers.
There's a reason Pampers are so popular with hospitals: the superabsorbent material and uniquely designed liner help protect your little one from wetness, leaving their sensitive skin nice and dry. In addition to being easier to clean up, this also helps prevent diaper rash!
Pampers Swaddlers
They are quite popular, especially with new parents. They are constructed of superabsorbent material, and the specially designed lining helps protect your child from dampness, leaving their skin dry. This not only makes cleaning easier, but it also helps to avoid diaper rash!
Pampers Cruisers
Pampers Cruisers are designed for active babies. They mold to your baby's body, keeping them dry as they explore their surroundings. They have a redesigned stay-put waistband with built-in ultra-strong grips. As a result, they are far more stretchy than any other Pampers diaper. They are also highly absorbent, offering up to 12 hours of protection.
| | |
| --- | --- |
| Size | Weight |
| Premie | Less than 6 lbs |
| Newborn | Less than 10 lbs |
| Size 1 | 8 – 14 lbs |
| Size 2 | 12 – 18 lbs |
| Size 3 | 16 – 28 lbs |
| Size 4 | 22 – 37 lbs |
| Size 5 | More than 27 lbs |
| Size 6 | More than 35 lbs |
| Size 7 | More than 41 lbs |
Huggies
Huggies diapers are popular for a number of reasons. They offer good absorbency, they're comfortable for babies, and they come in a variety of sizes.
When you're shopping for disposable diapers, it's important to know which size will work best for your child. Huggies offers five different diaper sizes, so finding the perfect fit is easy.
The size of a Huggies diaper is based on your baby's weight. Size one diapers are meant for babies who weigh up to eight pounds, size two diapers are for babies who weigh between eight and 14 pounds, and so on.
The diaper sizing chart below is for the following Huggies products:
Huggies Little Snugglers (Available in Preemie and Newborn sizes only)
Huggies Little Snugglers are carefully developed for delicate skin; they are breathable and free of allergens like fragrances and parabens. They are soft and have an extra layer to absorb moisture. The umbilical cord notch has been removed from the newborn and preemie diaper size so that your child can recover.
Huggies Little Movers (Available starting at size 3)
Little Movers are designed for babies who are constantly on the move. They include plenty of amazing features like double grip strips, a contoured shape design, and a wetness indicator to keep your little one dry while they're squirming, crawling, and exploring.
Huggies Pull-Ups
These are training pants designed for babies and toddlers who have just begun potty training. They are re-fastenable and have easy-open sides, allowing you to tailor your child's waistband while also allowing you to leave their clothes on for short checks and changes. It's an excellent training pant with all-around coverage and an underwear-like fit, as well as increased absorbency and leak protection where your child requires it the most.
Huggies Snug & Dry
Huggies Snug & Dry diapers dry in ten seconds and have a leak lock system as well as a quilted liner. The diapers have four layers of absorbent and protective material to keep your child as comfortable as possible. They are free of bleach, fragrances, and lotions, which might irritate your baby's skin.
Here's the size chart:
| | |
| --- | --- |
| Size | Weight |
| Premie | Less than 6 lbs |
| Newborn | Less than 10 lbs |
| Size 1 | 8 – 14 lbs |
| Size 2 | 12 – 18 lbs |
| Size 3 | 16 – 28 lbs |
| Size 4 | 22 – 37 lbs |
| Size 5 | More than 27 lbs |
| Size 6 | More than 35 lbs |
Hello Bello Diapers
Hello Bello diapers are environmentally-friendly diapers made from mostly plant-based materials. They are considered safer than your regular diapers. Similar to Pampers Pure diapers, these diapers don't contain any of the harmful chemicals found in disposable diapers such as artificial perfumes, lotions, latex, phthalates, TBT, or chlorine. This means they are less likely to cause skin irritation, allergies and diaper rashes. They have excellent reviews and offer a subscription service for diapers delivered directly to your door.
Here's the size chart:
| | |
| --- | --- |
| Size | Weight Range |
| Newborn | Up to 10 lbs |
| Size 1 | 8 – 12 lbs |
| Size 2 | 10 – 16 lbs |
| Size 3 | 14 – 24 lbs |
| Size 4 | 22 – 37 lbs |
| Size 5 | More than 27 lbs |
| Size 6 | More than 35 lbs |
The Honest Co. Diapers
Honest diapers are a well-known skin-friendly brand with some adorable styles. They're created from chlorine-free wood pulp and are free of phthalates, perfumes, and lotions. These diapers are also considered among the best overnight diapers!
| | |
| --- | --- |
| Size | Weight Range |
| Newborn | Up to 10 lbs |
| Size 1 | 8 – 14 lbs |
| Size 2 | 12 – 18 lbs |
| Size 3 | 16 – 28 lbs |
| Size 4 | 22 – 37 lbs |
| Size 5 | More than 27 lbs |
| Size 6 | More than 35 lbs |
\
Seventh Generation
Seventh Generation Baby diapers are probably one of the most popular 'green' nappy brands on the market. Their overnight diaper is amazing and while they're usage of phthalates is still unknown, their diapers are made from sustainable plant-based pulp and are widely available.
Alvababy Baby Cloth Diapers (cloth)
Alvababy cloth diapers are sold in packs of six. These cloth diapers come with a polyester shell made from breathable and waterproof TPU. They include adjustable snaps, a soft suede cloth on the inside that is incredibly absorbent, absorbing all the wetness away from your baby's bottom. They feature fun prints and a reusable hybrid size and are suitable for newborn babies and toddlers 3kg-15kg (6.6 – 33 pounds) weight size.
Swim Diapers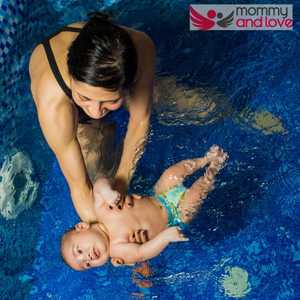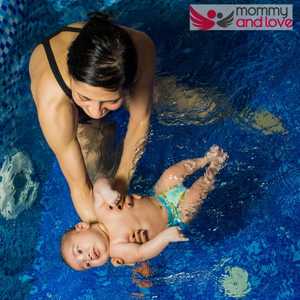 Swim diapers are designed to be worn in a pool or at the beach.
Their aim is to keep the diaper from swelling up, becoming unpleasant, and losing its capacity to function properly. Remember swim diapers do not hold wee.
Here are size charts of the two most popular swim diapers on the market right now.
Huggies Little Swimmers Size Chart
| | |
| --- | --- |
| Size | Weight |
| Small | 16 – 26 lbs |
| Medium | 24 – 35 lbs |
| Large | 32 lbs |
Pampers Splashers Size Chart
Splashers Weight Size
| | |
| --- | --- |
| Size | Weight |
| 3 – 4 | 16 – 35 lbs (7 – 15 kgs) |
| 5 | 30 – 40 lbs (14 – 18 kgs) |
| 6 | 37 lbs + (17 kgs +) |
16-35 lbs (7 -15 kg) Splashers Size 3-4
30-40 lbs (14-18 kg) Splashers Size 5
37+ lbs (17+ kg) Splashers Size 6
Why Does Baby Diaper Size Matter?
The answer is two-fold. First, with the wrong size, leaks and blowouts happen. Second, an ill-fitting diaper can cause chafing and discomfort for your little one.
When it comes to avoiding leaks and blowouts, the correct size really does matter. If a diaper is too small, it won't be able to contain all of your baby's waste, and you'll end up with a mess. An indication of this is the appearance of red marks. On the other hand, if a diaper is too big especially if it's loose in the leg openings, it will be bulky and uncomfortable for your child to wear, and it may leak urine or feces around the edges.
These are some of the reasons why it's important to use the size and weight charts of diapers when buying them for your baby.
Diaper Sizes Vary Between Brands
Some brands of diapers will use slightly different sizing standards than others. The best way to ensure that you're getting a good fit is to measure your child's waist and hips, then compare these measurements with the size chart on each brand of diapers you're considering buying.
Diaper brands will have different sizing charts. For instance, a brand might recommend a size for 22-37 lbs that can fit a 27 lbs baby in a different brand. In any case, they should all have the same general fit information. And with the help of a diaper size guide, you will find the best size diapers for your baby.
No matter what brand of diapers you choose, remember that babies come in all shapes and sizes. Don't worry too much about whether your baby is "in-between" sizes on the sizing chart. As long as the diaper leg cuffs fit well around the baby's thighs and legs, there should not be any problems with leaking or blowouts.
What if My Baby Isn't Growing According to the Diaper Size Chart?
The diaper size chart is just a general guide. If your baby is growing according to the general growth chart and seems healthy, there's no need to worry. It's very common for babies to be in between sizes for a while.
We know it can be hard to see your baby in diapers that are slightly too big or too small, but you don't want them to be uncomfortable! Sometimes when they're in between sizes they can feel too constricted or develop leaks because of the fit.
If your baby is not growing according to the growth charts and this continues for two months, seek professional medical advice from your pediatrician.
What Does "Size" Mean When It Comes to Diapers?
As a parent, you're going to be buying a lot of diapers. You know the basic things like how to put one on and how often to change the baby's diaper, but you might not know the right diaper your baby needs. After all, diapers are sized by weight and you might think that two babies that weigh the same need the same size.
The difference is that babies grow at different rates. While two babies might weigh the same now, one might grow faster than the other, so their diaper size based on the size and weight chart won't be the same for long. In fact, when your baby is young, you can expect them to gain anywhere from 1/2 pound to a full pound each week!
And if your baby has outgrown his diapers, you can always donate extra diapers.
Conclusion
It is important to choose the right size diaper for your baby especially when diaper changes are happening really fast. A poorly fitted regular diaper can lead to leaks and other problems. Diaper brands have their own size charts that you can use as a reference, and you can also measure your baby's waist and hips to find the perfect fit. If your baby is in between sizes, don't worry too much – as long as the diaper fits well around the waist and legs, there should not be any problems. And finally, remember that babies come in all shapes and sizes, so don't worry if your baby doesn't fit perfectly into one size on the size chart.
This article was written by: Gian MIller – Full-Time Writer, Baby Whisperer & Dad of 3.
Gian spends a lot of his time writing. A self-proclaimed baby whisperer, Gian has been through it all with his own children and is passionate about sharing his hard-won wisdom with other parents. When he's not writing or changing diapers, you can find him playing the guitar or watching baseball (or preferably both at the same time).