When it comes to keeping your baby clean, you can never be too cautious. That's why bibs are such an important part of a newborn's wardrobe. Bibs protect your child's clothes from drool, spit-up and other messes.
They also help keep your baby clean during mealtimes. In this blog post, we will discuss everything you need to know about baby bibs!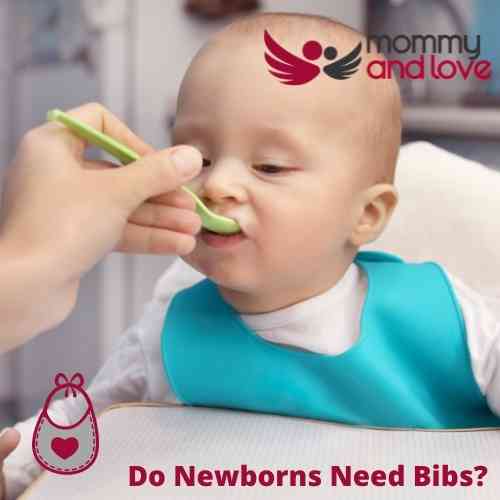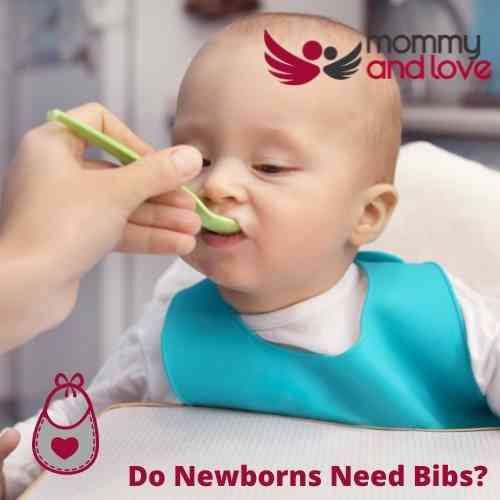 Bibs are among the most essential piece of baby cloth that every parent should buy. You need to use a bib sooner than we can even think of.
Do you know exactly when babies need to wear bibs? Well, generally, babies start wearing bibs after 1 to 2 weeks of being born. This's because bibs are convenient during the time you're bottle-feeding babies, breastfeeding babies, when they spit up, drool, or even worse when they vomit.
By using bibs, you can avoid getting stubborn stains on the clothes of your baby. And it will also prevent the baby to get wet as well as having to change their clothes. So, let's now know in detail about bibs or burp cloths in this article below…
What Are Bibs?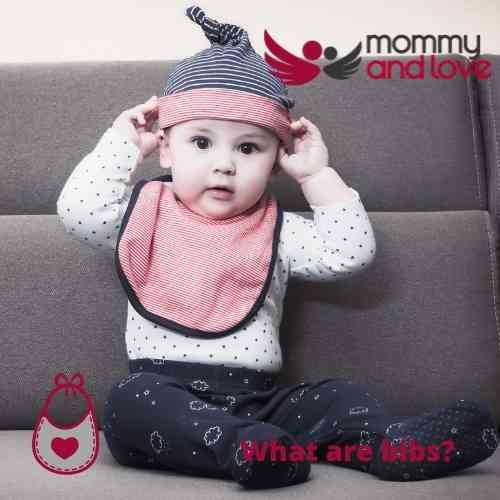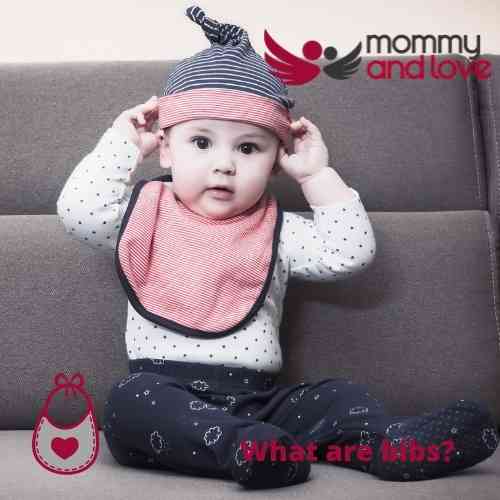 In case you're new to the term bib, let us simplify it for you. Bibs are is essentially a piece of cloth that you need to put around your baby's neck to prevent dirtying clothes while eating. It goes around your baby's tiny neck and covers the chest area.
Bibs are typically made from absorbent materials such as terrycloth or organic cotton (you can even get silicone bibs). Some bibs even have a waterproof backing to prevent stains from seeping through. Bottle feeding babies start to wear a bib as soon as they start drinking from a bottle.
For breastfed babies, bibs are not typically necessary until baby starts eating solid foods. At this point, you will want to choose a bib that is easy to clean and stain-resistant.
What Are The Most Suitable Newborn Bibs?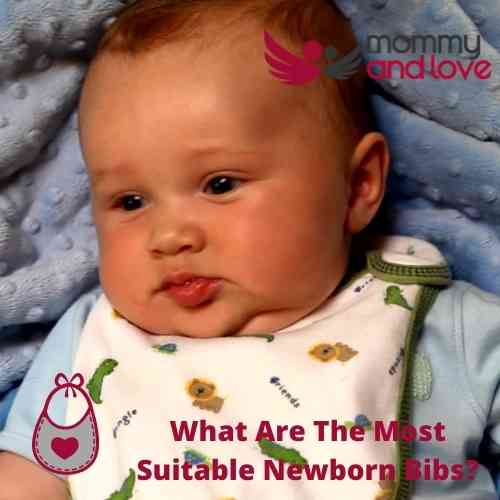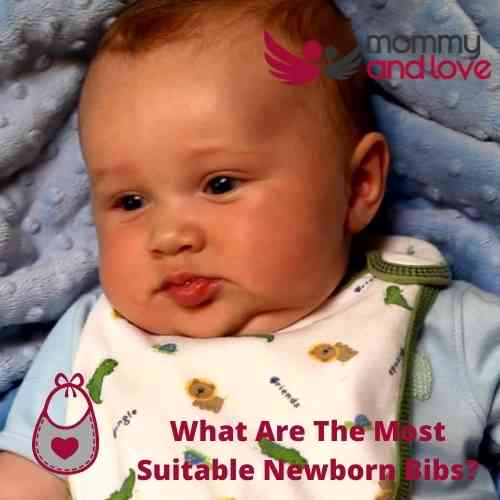 Activity and age determine the best bibs for your little one. However, when choosing a bib we suggest the bib be;
Many layers
Super absorbent (bamboo or cotton backing)
Pleated to grab excess drool
Soft Backing
Made using sustainable and eco-friendly materials
Adjustable
When Do Babies Need To Wear Bibs?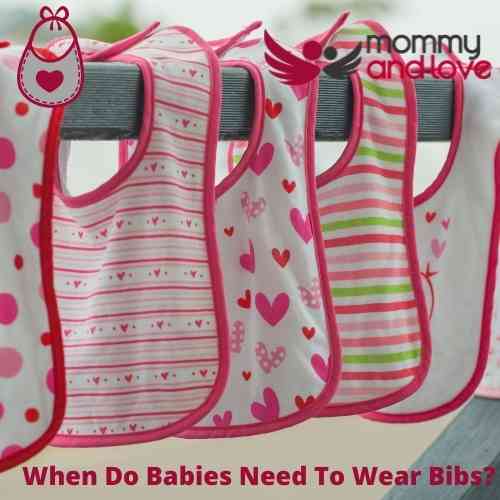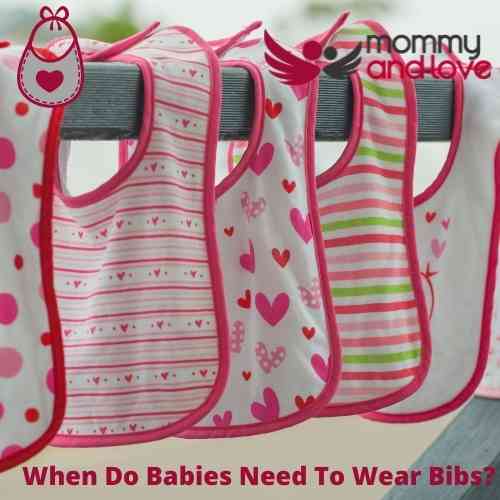 Babies may start wearing it soon after they turn 1 to 2 weeks old. Bottle-feeding little ones start even before a week after their birth to keep your baby dry. Bibs are among the most important items and parents must purchase some bibs in advance even before their baby is born.
It is generally not until well over 6 months of age that your child starts eating solid baby food, so regular and drool bibs are particularly useful in case the baby is just 6 months of age or even older.
Bibs are great not just for the messy eater but also for the occasional drool you get on little one's clothes and the inevitable spit up of babies drool. They are just one of those essential baby items that baby wears. The cool thing is, like all baby accessories, you can get them in a range of designs from the basic cotton to designer exclusive bibs!
Types Of Baby Bibs
With so many different types of bibs available out there it is difficult to understand what bib to purchase. It will rely on the activity of your baby but we've outlined the different types below to make things easier for you to understand.
Breastfeeding Bibs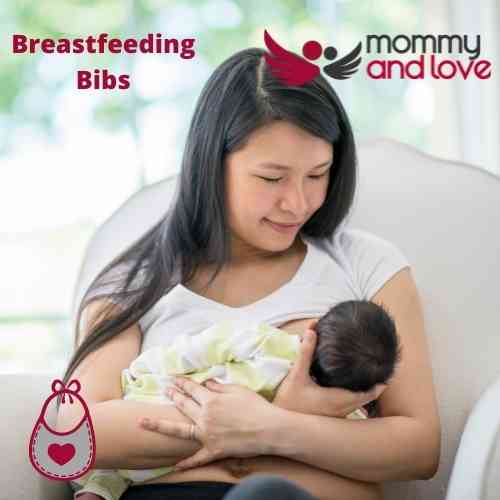 Such bibs are for babies who are bottle-feeding or breastfeeding. These help to catch spilling milk from getting into your baby's sleeves. breastfeeding bibs help in keeping your baby's clothes free from stubborn stains and the awful smell of spilled milk on baby clothes.
Newborn Bibs
A newborn baby bib is designed for infants between 0 to 6 months baby. These are generally made with a soft and absorbent terry backing and with a fabric front.
They even come with 2 fasteners which are set on the neck's side. This design allows you to put the bib on & off with ease.
Large Baby Bibs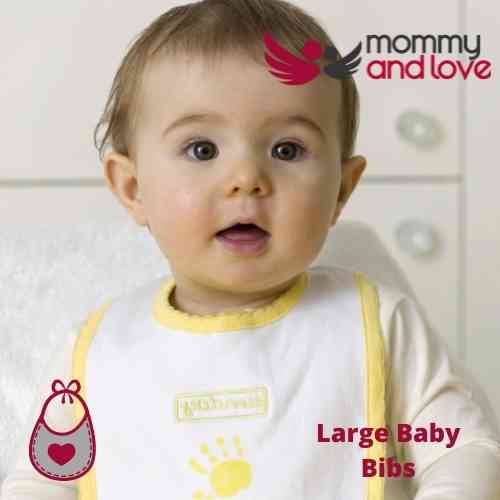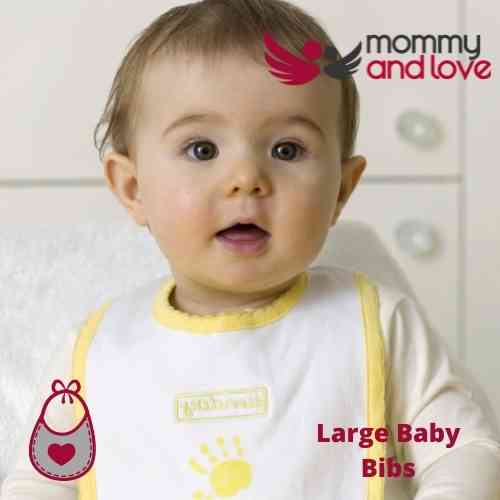 The larger baby bibs can even be utilized for feeding since they cover the maximum part of the baby wear. This large baby bib also assists as soon as your baby begins teething.
It'll protect their clothes from a large amount of spit they produce. These bibs are typically made from fabrics.
Bandana Bibs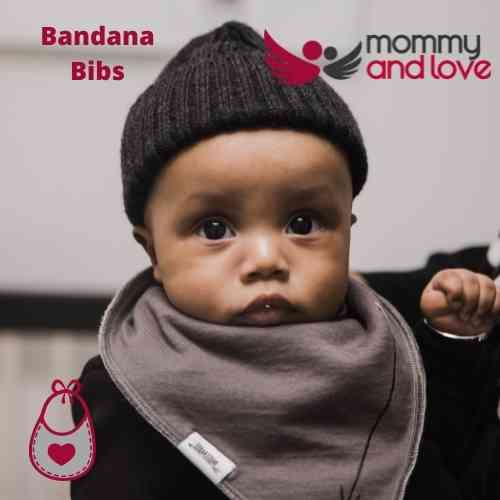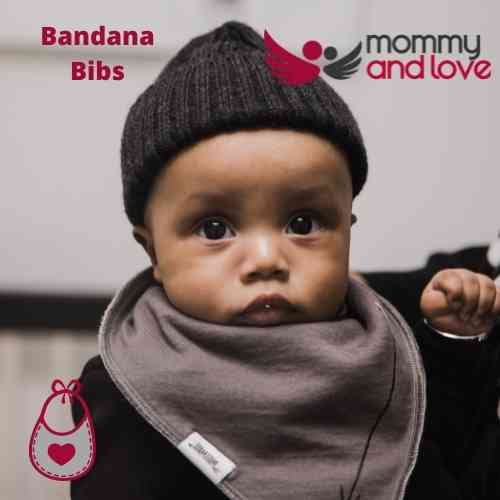 A bandana bib is a functional, beautiful, and also stylish. They are triangles in shapes worn by babies to catch baby spit or you can also use them as a stylish item.
They're ideal to catch baby teething spits to keep your baby dry as well as prevent rash caused due to drool.
The most significant reward is that they snap. This means the infant can't pull them off their neck and they are super soft agains baby's skin.
Drool Bibs or Teething Bibs Or Dribble Bibs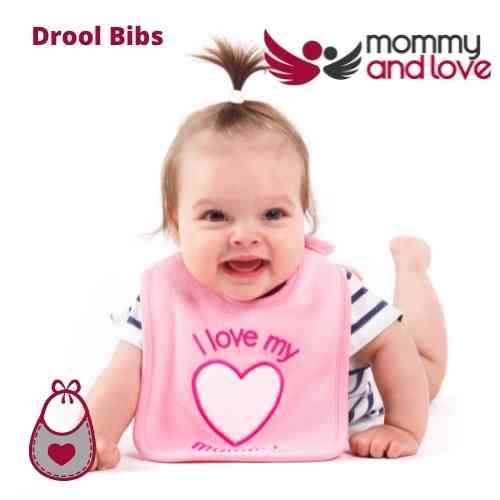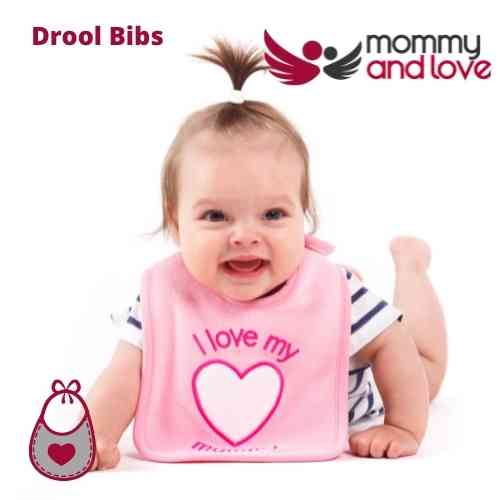 Most infants drool as well as their drool soon drains on their clothes and consequently makes them wet. Moreover, as soon as your baby starts teething, things get even worse.
Regular and drool bibswhich must be approvingly absorbent will aid keep your baby dry.
You can wear a drool bib to your baby and you will see your baby's clothes will remain cleaner for several hours.
Smock Bibs And Long Sleeved Bibs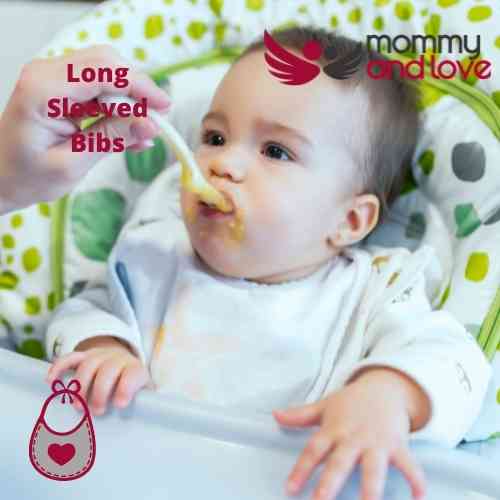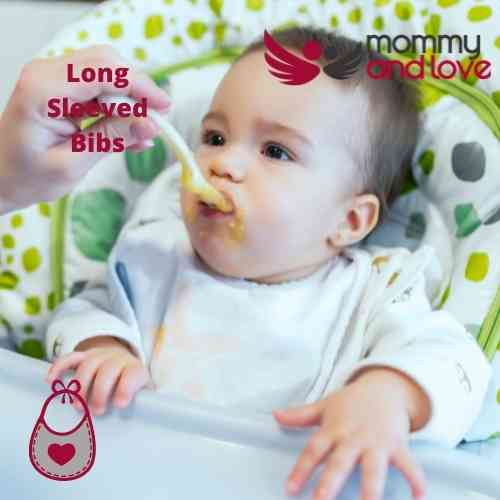 Every parent should have a bib like this one. These are easy to clean, often come in long sleeves, and are made using a thin plastic material that is used throughout the feeding session. It has numerous uses including painting, feeding, arts & crafts, as well as playing in the dirt too.
Long sleeves are fantastic for baby-led weaning as well as toddlers. Such a bib covers your baby's sleeves and features pockets to capture all soup spills. They'll keep your baby's clothes free from stains as well as save you on laundry detergent and also time.
Feeding Bibs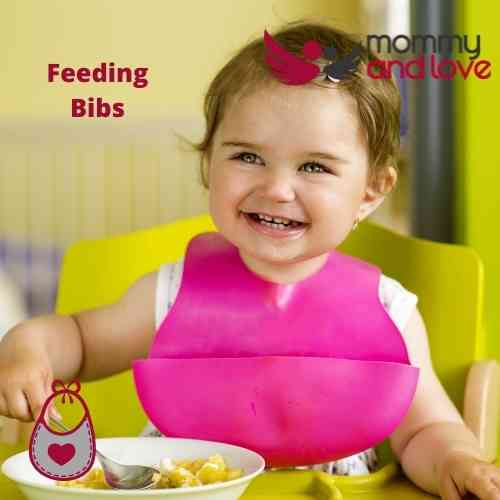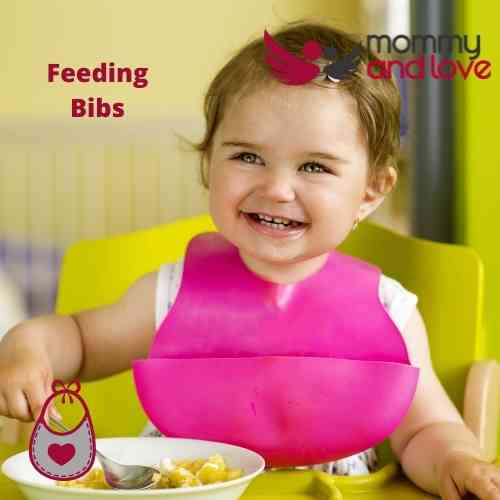 You can use a feeding bib as soon as you present solid foods to your toddler. A maximum of feeding bibs are made using food-grade silicone materials which are easy to clean by simply wiping and come with a pocket to capture all the food spills and particles.
Vintage Bibs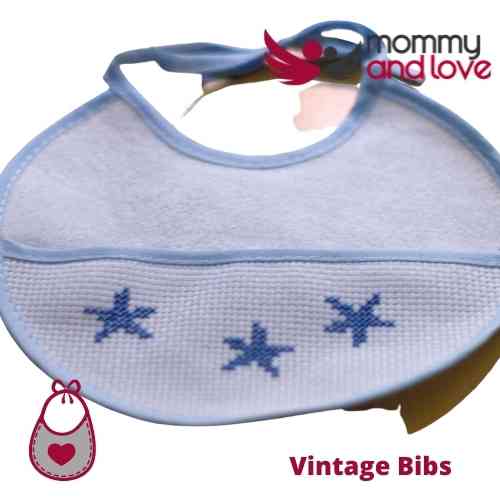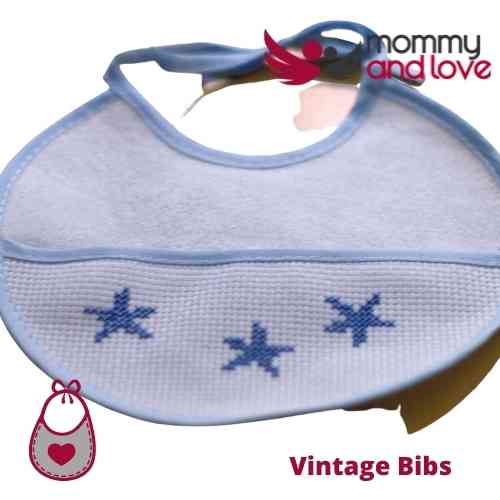 These bibs have lately become trendy and are typically only utilized at special events. They're standard-style baby bibs complete with lacing and baubles. Making it seem to be of vintage impression.
Disposable Bibs
Such bibs are excellent for traveling since you only need to utilize them once and then you can simply throw them away.
Do Newborns Need Bibs?
Well, it is not a must-have item for newborns but it is better to have one. This is because newborn babies spit up while feeding and breastfeeding in general. But when you put on a bib on your newborn baby's neck, it will save you from cleaning the baby's clothes often.
When Should Your Babies Stop Wearing Bibs?
Typically, this depends on several things like the activity of your baby. However, normally you won't have to use bibs when your baby reaches 2 years. If your baby still needs bibs after 2 years then it is okay too. Do not worry about that.
How Many Bibs Do My Newborn Babies Need?
The exact number of bibs that your baby needs depends on several things. An infant with rare spit-up or drool may need a maximum of 5 bibs but babies who drool a lot might need more than just 5 bibs.
FINAL WORDS
Bibs are important baby objects and newborn babies start using them when they're about 1 to 2 weeks old only.
However, you should practice caution while using baby bibs for your newborn babies since they pose a risk of suffocation. So your newborn should never nap wearing a bib as well as you must be keeping an eye on your baby to make sure it does not cover their face.