Pack n Plays are a great option for newborns and young babies. They are small, portable, and can be set up easily in your baby's room. But how long can the baby sleep in them? And when should you transition the baby to his or her own crib?
Sleeping for an extended amount of time such as nighttime sleep should be no problem as long as the Pack N Play is safety-approved, your babies aren't too old or large enough to climb out of it themselves, and they're supervised.
Are Pack N Plays Safe for Sleep?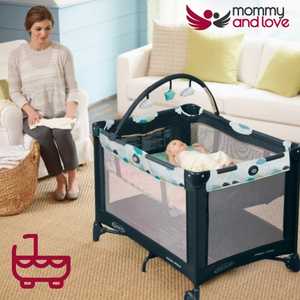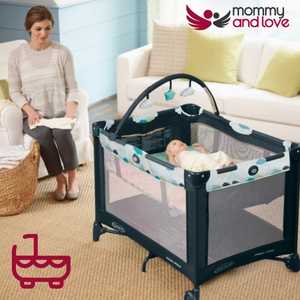 As a parent, you want nothing more than to keep your young child safe.
When it comes to sleep, you have many options available to you – from cribs and bassinets to Pack N Plays. So, what is the safest option for your little one?
Pack N Plays are subject to CPSC (Consumer Product Safety Commission) standards for infant sleep, which means they are a safe alternative to cribs or bassinets for baby to sleep in. In fact, many parents choose to use them as their child's primary sleep space because they are so versatile and convenient.
So, if you're looking for a safe place for your baby to sleep, a Pack N Play is a great option. And, if you're looking for a portable crib that meets all of the CPSC standards for infant sleep, we recommend the Graco Pack 'n Play with Newborn Napper Elite.
Is It Safe for the Baby to Sleep in Pack N Play Every Night?
Yes. A Pack N Play is a safe alternative to a crib or bassinet for your baby to sleep in every night. The Pack N Play meets CPSC standards for infant sleep, so you can rest assured knowing that your baby is safe and sound.
Can I Use a Pack N Play as a Crib?
Most pack 'n plays have an attached bassinet, which can be used for babies up to 15 pounds. But once your baby gets too big or starts to roll over, it's time to switch to a crib.
Here are some things to keep in mind if you're considering using a pack 'n play as a crib:
Pack 'n plays are smaller and don't have the same weight limit as cribs, so they aren't as sturdy. If you have a particularly active baby, they may be able to rock or shake the pack 'n play, which could be dangerous. See Mini Crib VS Full Size Crib – Comparison Guide
Cribs are designed to be comfortable for babies, with softer mattresses and higher sides. Pack 'n plays usually have harder mattresses and lower sides, which can make them less comfortable for your baby to sleep in.
Let's be honest, pack 'n plays aren't the most stylish pieces of furniture. If you're looking for a crib that will fit in with your nursery décor, a pack 'n play is probably not the best choice.
So, while you can use a pack 'n play as a crib, it's not the ideal solution. If you're looking for a sturdy, comfortable, and stylish crib for your baby, it's better to choose a traditional crib.
But if you're short on space or looking for a budget-friendly option, a pack 'n play can work in a pinch. Just be sure to keep an eye on your baby and switch to a crib when they outgrow the pack 'n play.
How to Make a Pack N Play or Play Yard a Safe Place for Sleep?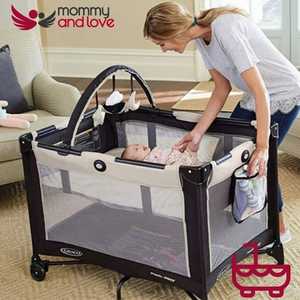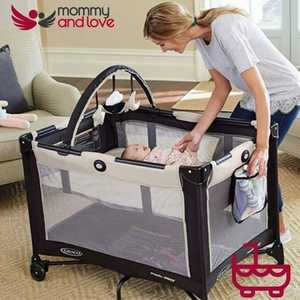 When it comes to play yards and sleep, there are a few things you should keep in mind in order to create a safe environment for your little one.
Always use a portable play yard with a firm mattress and only fitted sheets. This will help prevent your baby from rolling around and getting stuck between the bars.
Leave the sleeping area bare. You shouldn't be putting blankets, pillows, stuffed toys, soft bedding, bumpers, and other soft things in the sleeping area to avoid entrapment for your child's well-being. These can be a suffocation hazard for your baby.
Never leave your child unattended in the play yard. Always stay close by in case they need you.
Don't use third-party sheets because most of them don't fit.
Never leave one side folded down as this creates mesh pockets.
Avoid using crib bumpers even if they're made from a mesh material.
Don't put anything on top of the play pen because they can be an entrapment hazard.
Before putting your baby down, make sure there's no pacifier in his or her mouth.
These are just a few safety guidelines and precautions that could end up saving your baby's life.
Can Sleeping in a Pack N Play Increase the Risk of Sudden Infant Death Syndrome?
No. The Pack 'n Play does not need to be put together and they are usually made from hard and sturdy material which means they are safe for babies younger than a year and those who are most likely to die from SIDS. Also, you can use it as a playpen.
When Should a Baby Stop Sleeping Inside the Pack N Play?
The answer to this question depends on a few different factors, including the weight and height of your baby. Generally speaking, most babies will outgrow their pack n play by the time they weigh around 30 pounds or are 35 inches tall.
However, it's also important to keep in mind that every child is different. Some babies may not gain weight per their age but they're taller.
If you're unsure about when to transition your baby out of their pack n play, err on the side of caution and do it sooner rather than later. But it would be wise to make the transition to a bigger bed when your baby reaches the weight and height limit to prevent sleep-related infant deaths. It's always better to be safe than sorry!
Conclusion
How long can a baby sleep in pack n play? As long as you follow some simple safety guidelines, there's no reason your little one can't catch a few zzz's in these handy portable cribs.
Pack N Plays are designed for babies up to about 30 pounds or until they start trying to climb out of it themselves, whichever comes first. They are considered a safe and controlled environment to put older babies in provided they have not outgrown or reached the maximum weight of their play yards.
So if you have an infant who sleeps through the night, there's no need to worry – just set them up comfortably in their Pack N Play with infant bassinet attachments and they should be good to go.
And if you have questions or concerns about your baby's safety, you can always talk to your doctor or healthcare provider for professional medical advice.
FAQ
What Is a Pack N Play?
A Pack 'N Play is a portable crib and playpen that new parents can use from the time a baby is born until they are about two years old. It can be used as a play area for babies and toddlers that you can use at home or take with you wherever you go. Some models come with a bassinet attached to them. While same have mesh sided pack and transparent material makes up the sides.
What Are Pack N Play Maximum Height and Weight Limits?
Most Pack N Plays have height and weight limits of 35 inches and 30 pounds. Most children will outgrow these weight and age limits by two years of age. However, there is no weight on some models.
When choosing a Graco Pack N Play, it's important to consider your child's weight and height, as well as how long you plan on using the play yard. If you have a child who is on the taller side, or if you think you'll use the Pack N Play for more than a few years, it's worth considering a model with no weight limit.
No matter which model you choose, following the height and weight limits is important for ensuring your child's safety.
What Are the Benefits of a Pack N Play System?
There are many benefits to using a pack n play system for your baby. They are convenient, portable, and can be used for travel. Here are some of the top benefits of using a pack n play system for your baby:
Convenient because play yards can be set up and taken down easily. They are also lightweight and easy to carry, which makes them perfect for travel.
Portable and can be taken with you on the go. You can place it next to your during the first few weeks or months after birth. They are small enough to fit in the trunk of your car and can be set up quickly in a hotel room or at grandma's house. Perfect for families on the go.
Versatile and can be used for a variety of purposes. They can be used as a playpen, travel baby crib, or even a play bassinet attachment. There are models that come with a changing table.
Affordable and are a great value for the money. They are perfect for budget-conscious parents who want to save money on baby gear. But if budget is not an issue, you can opt for a model that comes with a diaper changing station. Having diaper changing stations can make your life easier during diaper changes.
If you are looking for a convenient, portable, and affordable way to care for your baby that you can add to your baby registry, then a pack n play system is a great option for you. With so many benefits including a changing table, it's no wonder that pack n plays are one of the most popular types of baby gear on the market today.
Pack 'n Play Key Considerations
There are a few things you need to consider when using one:
Do Loose Ends Pose a Risk?
If you have a portable crib, you may want to check for loose ends where your baby sleeps. Loose ends can get caught on pajamas' buttons or snaps, and sharp or protruding edges could hurt the baby.
It's important to make sure that all of the hardware on your portable crib is secure and that there are no loose ends that could pose a risk when you let your babies sleep.
Should I Add Extra Bedding?
The American Academy of Pediatrics says that if you want to prevent SIDS, you should keep all soft or loose bedding out of the crib. So, you can put extra blankets on your own bed, but don't put them in the crib.
You should also keep several other safety considerations in mind when you let your newborn baby sleep in a Pack N Play. This includes the possibility of strangulation and suffocation.