When it comes to putting your baby to sleep, there are a few different options. One option is to put the baby in a bassinet, or even a rocking bassinet. The other option is to put the baby in her own crib straight away, but a mini crib or a full size crib? So, which one is best for your baby?
It's completely safe to skip the bassinet or co-sleeper and just go straight to the crib.
There are two types of sleepers for a newborn: cribs and bassinets. Both a bassinet and crib have benefits, but there are some differences between the two. The most obvious difference is size: cribs take up more space than bassinets. Bassinets are also more portable because they're smaller in size.
What's the Difference Between a Bassinet and a Crib? – Bassinet Vs Crib
When it comes to choosing the perfect sleeping arrangement as your newborn baby makes her big debut, you can let your baby sleep in either a crib or a bassinet. These are the two most popular safe sleep spaces for babies but what's the difference between them?
Size
The main difference between a crib and a bassinet is the size. A bassinet is smaller than a crib, which makes it more portable and easier to store.
Most bassinets have lower sides, making it easier access for many parents to pick up and hold their baby. Additionally, a new bassinet comes with weight limit.
Cribs are larger and have higher sides, making them more stable. Cribs are also more difficult to move around, so they are typically only used in one place. So if you choose a crib, make sure you place it in the same room where you sleep to keep your baby close.
However, modern cribs come in different configurations. There's a portable crib that you can easily transport with you and then there's a convertible crib that converts into a toddler bed. Convertible cribs are popular because they are considered cost-effective. And if you have less space, you can opt for a mini crib which is smaller than traditional cribs.
Both bassinets and cribs can come with a variety of features, such as storage baskets, rocking bases, and mosquito nets.
Interestingly, there's a Pack N Play that comes with a bassinet attachment.
Assembly
Another difference between a bassinet and a crib is the assembly. Bassinets usually come pre-assembled, while cribs will need to be put together. This can be a difficult task for some parents, so it is important to read the instructions carefully before starting. Cribs also tend to have more parts than bassinets, so they can take longer to assemble.
Stability
The final difference between a bassinet and a crib is stability.
Bassinets are often placed on the floor or on a table, while cribs are usually mounted to the wall or another piece of furniture. This makes bassinets less stable than cribs, which can be a safety concern for some parents.
Baby cribs are also required to have certain safety features based on safety standards outlined by the Consumer Product Safety Commission, such as the baby's mattress should have adjustable heights and solid sides.
You can let your newborn sleep in either a freestanding crib or bassinet. But knowing the difference between a bassinet vs baby crib will allow you to choose a safe sleeping environment before the new baby arrives.
Cost
Looking online, bassinets are a lot cheaper than a crib. A good bassinet costs between $75 and $150, whilst cribs start at $150 and can you up to…a lot higher! On top of this, you will also need a crib mattress.
However, a crib will last up to three years so are a long term investment, but for parents struggling with the upfront cost, a bassinet might be a great starting place.
What Are the Pros and Cons of Using a Bassinet?
Pros
Bassinets can be a great option for parents who are looking for an alternative to a crib. There are several pros to using a bassinet, including:
Bassinets are typically smaller than cribs, making them more suitable for smaller spaces
Can be easily transported from one room to another
Tend to be less expensive than cribs
Some bassinets come with a rocking feature, which can help soothe a baby to sleep
Bassinets are typically lower to the ground than cribs, making them easier for parents to teach their babies during the night.
Perfect for room sharing, bed sharing or co-sleep in your master bedroom
Can be used for the first few weeks/few months of a baby's life
Cons
If you're on the fence about using a bassinet, here are some potential cons to consider.
Bassinets can be dangerous due to a potential tipping hazard.
Good for the first few months but babies can outgrow them quickly.
What Are the Pros and Cons of Using a Crib?
Pros
Most parents these days choose to use a crib for their newborn baby. There are many pros to using a crib, here are some of them:
Longer lifespan
Less likely to tip over
Can be used from birth until your child is old enough to transition to a bigger bed
Crib mattresses are widely available
A wide selection of colors, styles, designs, and sizes to choose from.
Cons
Here are a few main cons of using a crib:
Can be quite complicated to assemble. This is especially true if you have a more intricate design.
Can take up quite a bit of space in your home. If you have limited space, this might not be the best option for you.
Heavy and difficult to move.
How To Choose Between a Bassinet and Crib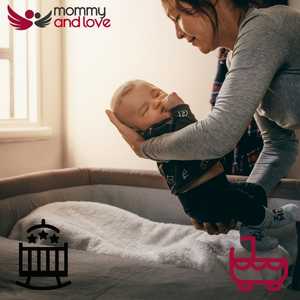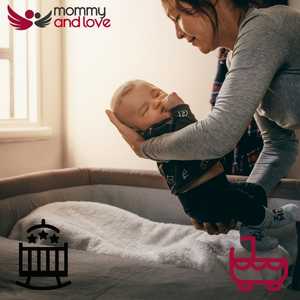 When it comes to choosing between a bassinet and a crib, there are a few key factors you'll want to take into account.
First is the price – cribs can be more expensive than bassinets, so if you're on a budget you may want to opt for the latter.
Safety is another important consideration when choosing your baby's bed. Bassinets are often smaller and lower to the ground than cribs, making it easier to lay baby down. However, they can also be more easily tipped over, so make sure you choose one that is sturdy and stable.
Finally, think about what features you want in the sleeping space for your baby. Bassinets typically come with extras like storage baskets and can be easily moved from room to room, while cribs are more stationary. If you have a smaller living space, a bassinet may be the better option.
Take all of these factors into account when making your decision, and ultimately choose what will work best for you and your family.
Why Does My Baby Hate Their Crib?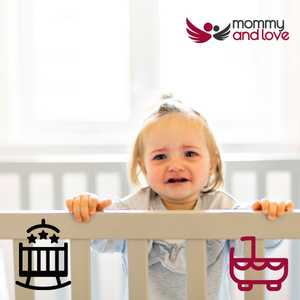 There are a few reasons why your baby might hate their crib. If your baby is sick, they may not be able to sleep as well. This can make it hard for them to stay in their crib.
Babies often reach new milestones during this time, like rolling over, sitting up, and babbling. But sometimes they may also experience a sleep regression where they temporarily start sleeping worse than usual.
If your baby is going through a sleep regression, try to be patient and understand that it's only temporary.
What Makes a Crib Safe?
There are a few things you should look for when assessing the safety of a crib.
Make sure that the hardware, bolts, screws, and other components in your safe crib are all securely fastened.
There should be no sharp edges or rough areas and no spots that can pinch or injure your child. The wood should also be free of cracks or splits.
In addition, the mattress should fit snugly in the crib so that there are no gaps where your child could get stuck.
Always check to make sure that the drop-side of the crib is engaged and locked in place before putting your baby down for a nap or bedtime.
Make sure there are no loose bedding or soft bedding, stuffed animals, and blankets.
Crib slats should not be more than 2 3/8 inches or 6 centimeters so a baby's body can't fit.
Remove any type of sleeping device or sleeping aide.
Don't use sleep positioners.
What Makes a Crib Mattress Safe?
There are a few things to consider when purchasing a crib mattress for your little one. The most important factor is firmness. A too-soft mattress can pose a serious suffocation risk, so it's important to make sure that the mattress is firm and supportive.
In addition to firmness, you'll also want to look for a mattress that is free of harmful chemicals and flame retardants. These chemicals can off-gas and are breathed in by your baby, which can lead to health problems down the road. Look for a mattress that is certified organic or made with natural, non-toxic materials.
Finally, make sure that the mattress fits snugly in the crib. There should be no gaps between the mattress and the sides of the crib, as this can create a dangerous entrapment hazard. And it should also have a tightly fitted sheet.
Should I Use Crib Bumpers?
Crib bumpers are often marketed as a way to keep your baby safe, but the truth is that they can actually be very dangerous to your baby's head, arms and legs. They can increase the risk of SIDS, and they're also a suffocation hazard. So what's the bottom line? You should never use crib bumpers.
How Do You Get a Newborn to Sleep in a Crib or Bassinet?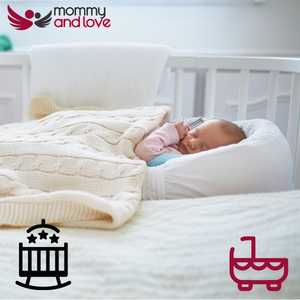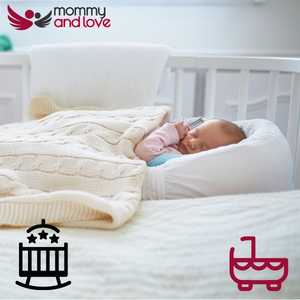 The answer may surprise you – it's actually quite simple. Just follow these easy steps and your little one will be tucked in snugly in no time.
First, make sure the crib or bassinet is clean and comfortable. Add a few soft blankets or a baby quilt for extra warmth and coziness. Then, place your baby in the crib or bassinet on their back, making sure they're not too close to the edge.
Now it's time for the swaddle. Use a light cotton blanket and wrap your baby snugly, tucking in the edges so they can't wiggle out. Finally, give them a gentle pat on the back and say goodnight. In no time at all, they'll be sound asleep.
When Should a Baby No Longer Sleep in a Bassinet or Crib?
A baby can sleep in a bassinet until 6 months old and in a crib until 3 years old. After that, you can start to think about transitioning them to a bigger bed, like a toddler bed or twin bed in her own room. Of course, every baby is different, so it's important to talk to your pediatrician before making any big changes.
Conclusion on Bassinet vs Crib
Should your newborn sleep in a crib or a bassinet? There's no clear cut answer to this question. Both cribs and bassinets are great safe sleep options for your baby, depending on your personal preference and the situation you're in.
If you want something easier to travel with and save space in a small room, a bassinet will be a good choice. If you want something bigger and more stable, consider a crib.