I remember having my first baby and sitting in the hospital wondering why on earth I had packed a pair of jeans and a cute sweater and not much else. Experience taught me with my following three children that comfort after giving birth is a must!
If you're headed to the hospital soon for the arrival of your bundle of joy and are wondering what to put in your hospital bag, look no further.
Yes, the hospital will provide you with a gown but it's hardly the most comfortable nor the most nice-looking apparel in the world, is it?
Labor/Delivery Gown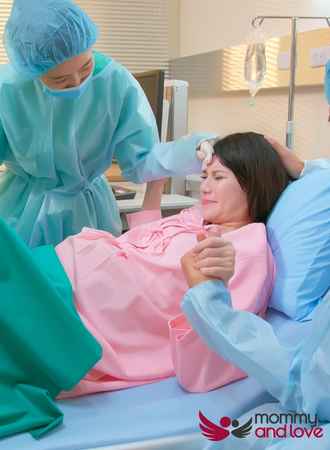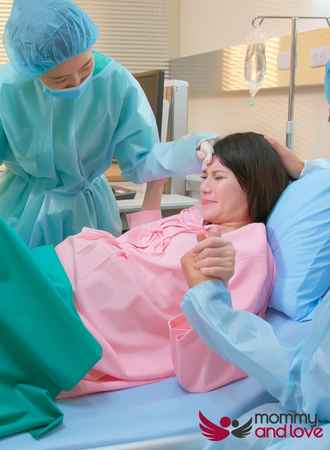 When you arrive at the hospital, you will be given a gown that you can wear while giving birth. Of course, you don't have to wear this and there are so many gorgeous gowns out there. Just remember though that labor and delivery get very messy so you may end up having to throw your gown out.
But even after delivery, a gown is one of the most convenient items of clothing you could wear and I'd highly recommend packing at least one in your hospital bag for after the birth.
Latuza Women's Bamboo Viscose Nursing Nightgown And Robe Set – Most Versatile Gown
Latuza Women's Bamboo Viscose Nursing Nightgown and Robe Set XL Pink
Fabric: 95% Viscose (made from bamboo), 5% Spandex. Recommend to choose your pre-pregnancy size and follow the size suggestion as below: S=US 4-6, M=US 8-10, Large=US 12-14, XL=US 16-18, 2X=US 18W-20W
Viscose maternity nightgown and robe set, made from bamboo, feels cool without clinging is comfortable for every moms, especially good for summer hot flashes and reduce night sweats. Recommend machine wash cold gentle, do no bleach, iron low heat, do not tumble dry and do not dry clean
knee length pregnancy robe with long sleeves is decent and can avoid getting cold. Also with two belt loops attached on each side at natural waist for belt closure
Not only does this super cute set come in a whole host of colors but it's one of the most comfortable robes and gown combos I've seen anywhere. Made from super soft bamboo viscose, the set feels amazing on the skin and is breathable so if you're feeling hot during labor (which you probably will), it'll help with that.
I'm also loving how well this set works after birth thanks to the v neck design that's just perfect for nursing.
What a feminine and stylish way to remain comfortable throughout what could be a pretty intense time.
Ekouaer Women's Nursing/Delivery Gown – Most Comfortable Gown
Ekouaer Womens, Nightgown Nightshirt, Pregnancy Labor Robe, Short Sleeve, Delivery, Nursing Hospital Gown, Wine Red, Medium
MATERIAL:Made from 95% Rayon, 5% Spandex .New design with excellent stretch fabric,makes this gown with short sleeves perfect nightwear during pregnancy,labor and post pregnancy.
BOTH SIDE BUTTONS: Ekouaer soft nursing dress,the access for feeding by unfastening buttons one or both sides. Side openings are designed for easy and discreet breastfeeding yet still very secure feeling when not feeding
BUTTON DOWN BACK : Hospital Gown With a baggy cut ,you can be sure of a perfect fit along with snaps down the back,you can freely move around yet have easy access for medical examinations or in total stage of labor .
If you're looking for a simple yet super comfortable gown for your hospital bag then I've no qualms in recommending this one from Ekouaer. The gown is made from a blend of rayon and Spandex so it's soft and breathable, and there's plenty of stretch to match your changing body.
But what really stands out about this robe is how easy access it is, and not just for breastfeeding, although it is perfect for nursing. It features snap buttons at the back and sides which makes it ideal for incision checks, epidurals, and much more. I love this because while giving birth and everything after is quite invasive of your privacy, a robe like this can help to preserve your modesty. Plus the hospital staff are sure to thank you!
Post Delivery Pyjamas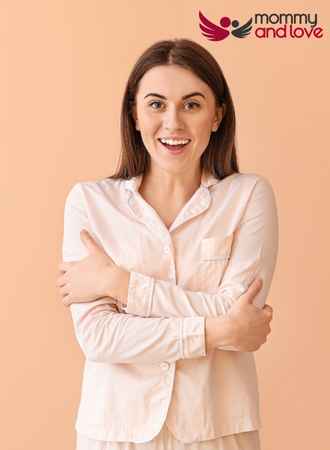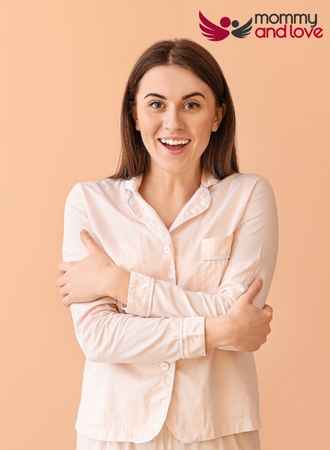 The PJs you wear after giving birth need to be super comfortable and not restricting. A lot of sets come with adjustable waistbands so you can alter them to your changing body and so that they feel good.
It's best to go for something breathable like cotton; go on treat yourself, you've just pushed a person out of your body, after all.
PJs with button fronts are ideal for breastfeeding moms and the good news is that there are tonnes of cute designs so you can still look glam!
Ekouaer Women's Maternity Pajama Set – Best For Breastfeeding
Not all postpartum moms who decide to breastfeed their babies want to wear a nursing gown. But that doesn't mean that you can't have easy access when your baby is hungry. These stylish maternity PJs have an opening at the breast that's discreet yet easy to use.
I'm personally in love with the array of bright colors because who said you couldn't stay bang on trend when you're in the hospital?
You can also choose between long pants or shorts which gives you excellent options depending on the weather and how you're feeling after birth. What's more, the material is 5% Spandex so there's enough stretch that you'll always feel comfortable.
Floerns Women's Notch Collar Two Piece Pajama Set – Best For Use After Getting Home
It's all well and good buying a tonne of maternity clothes for your stay in the hospital but many women find they no longer use these after the first few weeks of returning home. However, these button-down PJs are ideal for wearing in the hospital and for months after returning home.
The button design is great for breastfeeding and if you need to have any checks or examinations while in the hospital.
The material looks as though it would be stiff cotton but it's much stretchier than you'd imagine which makes it ideal for a postpartum period hospital stay. What's more, the stylish and feminine design makes these PJs perfect for hospital photos with your bundle of joy.
What I would say, however, is that the waistband isn't as thick as you might like. If you need additional support around this area then these might not be the ideal thing to wear after giving birth.
What To Wear On Your Feet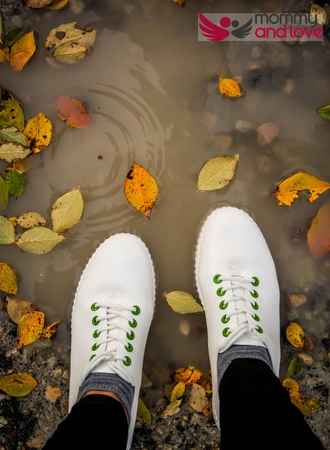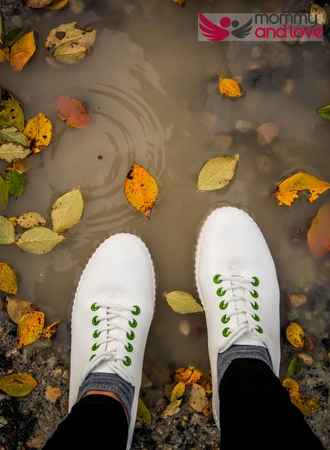 Where shoes are concerned, you're going to want something comfortable and cozy for your stay in the hospital. A good pair of slippers and some thick socks are ideal for those days when you're relaxing in bed.
You will also need a pair of shower shoes. These will protect your feet when using the shower but are also non-slip; the last thing you want after giving birth is a nasty fall.
Finally, I would suggest taking a comfortable pair of sneakers. You may wish to go for a short walk and they'll be ideal for when it's time to head home.
Dearfoams Mama Bear Slippers – Most Comfortable For In Your Hospital Room
Sale
Dearfoams Women's Mama Bear Slipper, Buffalo Plaid, 5-6
SLIDE-ON DESIGN: Women's Dearfoams Mama Bear Clog Slippers are charming, cozy, comfortable, and sure to put a smile on your face. These everyday slippers are perfect to slide on when you are looking for some extra comfort for your well-deserving feet.
CLASSIC PATTERNS: Available in multiple colors to fit every mama bear in your life. Featuring inclusive ladies' sizing from 5-12: Small fits 5-6, Medium fits 7-8, Large fits 9-10, X-Large fits 11-12.
MEMORY FOAM INSOLE: Each slipper is fitted with a multi-density cushioned insole and topped with memory foam for a cloud-like feeling on your feet.
During your hospital stay, the most important thing is to stay comfortable but when your postpartum clothes are also super cute, that's a real bonus! Whether this is your first or second baby, you'll want to feel like the proud mama you are and these logoed slippers are perfect for making you feel that way.
Of course, they're also ideal for chilling out during your recovery as the memory foam insoles mold to the shape of your feet offering a luxurious feel. The outsole is textured rubber with excellent grip so you're supported as you start moving around.
I also love that these have an open back and plenty of space for the ankles which is essential if you've been suffering from swollen feet; your tootsies won't feel restricted.
Joomra Pillow Slippers – Perfect For The Shower
Sale
You're naturally going to feel a little unsteady on your feet after birth whether you had a C-section or gave birth vaginally. So, it's important to choose shower shoes that give you good grip and keep you steady.
These ones from Joomra are perfect since they are super stable on both the outsole and the inner material will keep your feet from sliding around inside the shoe.
They're lightweight being made from foam so are easy to slide on and off without having to over-exert yourself. Plus that thick, squishy foam feels amazing under your feet; who'd blame you if you spent more time in the shower than anywhere else?
What's really impressive is how well you can get the Joomra shower shoes to fit. If the sizing is a little off, simply pop your foot inside after applying heat to the shoe from your hairdryer and watch as the material molds to the shape of your foot!
SQT Women's Running Shoes – Best Shoes To Wear Home
STQ Women's Slip On Walking Tennis Shoes Lightweight Gym Jogging Sports Athletic Running Sneakers, All Black 5.5
Breathable Upper: Made from high-quality textile materials, these shoes are soft, supple, and comfortable to wear. They can stretch and flex according to the contours of your feet for a snug and supportive fit, ensuring long-lasting use and top-notch performance every time
Comfortable Insole: Removable sockliner improves comfort, remove to accommodate orthotics
Air Cushion: Featuring exceptional cushioning technology, these running shoes absorb shock on every stride, delivering maximum comfort and support to your feet. The cushioning effect minimizes the impact of your footfalls, preventing injuries and improving your overall performance
Something that a lot of women wonder about is what outfit for going home they should put in their hospital bags. Quite simple, comfort is key and that includes what you wear on your feet.
These sneakers may be advertised as running shoes, and I'm sure you're not going to be running a marathon any time soon, but with optimum comfort features, they're perfect as part of your wear-home outfit.
The shoes boast cloud-like support with just the right degree of firmness to keep your feet feeling as though you're walking on air. But even before you go home, they make an excellent choice for short walks around the hospital grounds as you start moving around more.
The air cushion means that these sneakers are brilliant at absorbing shock. If you're in pain then these are great to wear after giving birth since it won't feel as though each step is sending shockwaves up your body.
Nursing Tops
Did you know that more than 80% of new moms in the USA decide to breastfeed their newborn babies? But if you don't have a nice selection of nursing tops then it's nothing but a pain every time your little one is hungry.
Bearsland 3 Pack Nursing Tops – Best Value For Money
Bearsland Women's 3 Packs Maternity Nursing Tops Short Sleeve Breastfeeding Shirts,Purple+pinkf+Mint Green,L
Modal material,93.1% Rayon and 6.9% spandex,Soft,Comfortable,Stretchy.
Nursing layered in various colours – excellent quality,very comfortable and practical;Fashion style and practical for any activity (shopping, traveling, hanging out at home)
Double front layers, lift up the front layer for breastfeeding;Designed to fit pregnancy and postpartum nursing women,works great with skinny jeans and leggings.
What's the point in spending a small fortune on designer nursing tops when you can get 3 for under $40? Not to mention that these tops are incredibly stylish and since each pack contains three tops, you've got a few great options for various occasions. You can wear these maternity tops in the hospital during the day just as easily as you can after you return home.
Each nursing top is designed for easy breastfeeding access with a discreet opening at the breast. While the tops are a little clingier than you might have expected, sizing up does help. What's more, with 6.9% Spandex, they're pretty stretchy.
BRLido Nursing Tank Tops – Best Nursing Top With Built-In Bra
Sale
Sometimes, no matter what you try, it's just unpleasant to wear a maternity bra underneath your top. For easy access when breastfeeding, a top with a built-in bra is perfect. Not only does it offer you excellent support but there's somewhere to place nursing pads for those leaky milk moments; let's face it, we've all been there!
These nursing tanks from BRLido are ideal as a basic underlayer for your going-home outfit as they're strappy and breathable. The tops are flattering to your postpartum body as they're made from stretchy material that will change as your body does.
Comfortable Pants
While your tummy won't be as large as it was a couple of days ago, you're still not going to get back into your beloved jeans just yet. And even if you could, you'd probably find them hugely uncomfortable.
That's why a pair of comfortable and loose-fitting pants are essential. If you have given birth via C-section then it's important to choose high-waisted pants that won't rub on your wound. Maternity clothes are ideal as the stomach section is designed to go over your tummy. Some people prefer wearing a pair of stretchy pants that change with their body during the first postpartum days.
You can choose from either jogging bottoms, or if you prefer, there are some brilliant maternity leggings that offer superior comfort and are easy to wear.
Motherhood Maternity Leggings – Most Stretchy Pants
As I mentioned earlier, a lot of people like stretchy pants, and these leggings are great for wearing around the hospital. That said, any new mom is going to love wearing these once they return home as they're uber comfortable and go with any outfit so you can ensure your style stays up to date.
The leggings have a patented stretchy panel that's designed to grow with you during pregnancy and in those postpartum days. You can also choose whether to wear them over or under your bump. If you've had surgery then the height of these leggings will go well over your wound so will prevent chafing.
A lot of people have commented on just how stretchy the Motherhood Maternity pants are so while they might look small, there's a lot of give in them!
Alina Mae Palazzo Pants – Best For Lounging
[amazong box="B08K8L2MP7″]
If you aren't overstruck by the idea of lazing around your hospital room wearing nursing pajamas all day then you might prefer a pair of lounge pants. Not only are these ones some of the most comfortable clothes in the review, they also feature a beautiful floral pattern so you can stay looking like the hot mama you are.
I think these pants are perfect for those who have given birth vaginally as the waistband is lower. If you've has a caesarian section then you might be better off wearing high-waisted pants.
One of the things that really makes the Alina Mae pants stand out from the crowd is how well-made they are. While they are designed to be worn right up to your due date and shortly after, I wouldn't blame you if you added them to your regular wardrobe because they will stand the test of time!
Postpartum Underwear
Your body has been through a lot so the last thing you want is uncomfortable undergarments rubbing on C-section scars or sore nipples.
For moms that have chosen to breastfeed, a good nursing bra is a must but you'll also want comfortable, breathable underwear that's large enough to keep your sanitary pad secure.
Kindred Bravely High Waist Postpartum Underwear
Kindred Bravely High Waist Postpartum Underwear & C-Section Recovery Maternity Panties 5 Pack (XXL, Assorted Jewel Tones)
DESIGNED FOR ULTIMATE COMFORT – Smoothing design sits above your c-section line and covers your post baby belly without digging into your skin!
PERFECT FOR C-SECTION RECOVERY – The perfect postpartum / C-section maternity underwear for post c-section comfort and recovery. Can be worn up to 12 months after delivery.
A TOUCH OF STYLE FOR POSTPARTUM RECOVERY – Designed to hold post surgery dressings or postpartum maternity pads – the perfect alternative to the hospital mesh granny panty or ugly Walmart / Target panties.
When you think about postpartum panties, you might think of granny panties and that's not the style that any of us want, even after giving birth. But of course, you'll need comfortable underwear especially if you're recovering from surgery and that's why I love these high-waisted panties from Kindred Bravely.
They're designed to be worn after birth without rubbing on your scar and providing you with a soft feel against the skin.
With a 100% cotton gusset, the underwear is breathable but the stretchy body of the panties are ideal for your changing body. Large enough to comfortably wear thick sanitary pads but with enough feminie style to make you feel good; these offer a great balance between everything you need.
KUNINDOME Seamless Maternity Shapewear – Best For The Postpartum Body
KUNINDOME Pregnancy Underwear, Nude, X-Large
【SHAPE BABY BUMP NICELY】Seamless soft design to show nice baby bump, smooth out lumps, provide gentle belly and back support, prevent thigh chafing without rolling up, help hold everything in place and ease the pain of pregnancy, a must-have maternity shapewear.
【COMFORTABLE & BREATHABLE】90% Nylon + 10% Spandex, moisture wicking, silky and stretchy fabric are super comfy and skin-friendly. High texture materials are durable and not see-through.
【PREGNANCY WEAR & POST PARTUM】High stretchy fabric + Elastic waistband always fit your growing belly, but not squeeze the stomach, gives moderate support throughout all stages of pregnancy and postpartum breastfeeding.
You cannot expect to magically go back to how you were pre-pregnancy but I know just how difficult it can be to adjust to your new body after giving birth. It took me a long time to come to terms with how I had changed and I only wish I'd had this maternity shapewear underwear while I got used to the new me.
Not only is it really comfortable and stretchy but it does an amazing job at creating a nice silhouette that is ideal for when you wear maternity clothes on top or to wear after giving birth. That's what I call versatile.
Completely seamless, the underwear is super discreet and with long legs, it prevents the thighs from chafing which is something that a lot of women suffer with during pregnancy and after birth.
Kindred Bravely French Terry Nursing Bra – Best For Night Feeds
Sale
Kindred Bravely French Terry Racerback Nursing Sleep Bra for Maternity/Breastfeeding (Black, Medium)
AWARD-WINNING COMFORT – The ultra-soft French Terry Racerback Bra is a wire-free nursing bra with no clasps or hooks to mess with. No wonder it's been named a Mom's Choice Award Winner!
A NURSING MOM'S BEST FRIEND – This nursing sleep bra features easy pull-aside breastfeeding access so you can move comfortably day or night. With ultra-soft, stretchy fabric, this nursing sleep bra is designed for fluctuating breast sizes.
IDEAL FOR SLEEP – The French Terry Racerback maternity bra offers gentle support during pregnancy while you sleep. Great for midnight nursing sessions and for keeping breast pads in place.
If you're anything like me, you don't want to wear an uncomfortable bra during the night. But during pregnancy and after giving birth, you are in desperate need of support as you produce milk and your breasts get heavier. But this soft, supportive bra from Kindred Bravely gives you everything you need and won't dig in while you're trying to get some much-needed rest.
The bra easily pulls to one side to allow you to feed your baby without a fuss and the lightweight material keeps you cool and comfy all night long.
I love that this nursing bra comes in a great choice of colors so you can match it with your own clothes or with your postpartum pajamas and still look and feel amazing.
HOFISH 3 Pack Full Bust Seamless Nursing Bras – Best For Larger Breasts
If you have naturally larger breasts, once your body starts making milk, you're going to need even more support. These bras are perfect for ladies of all sizes but for those of us with larger chests, they provide the ultimate support you've been looking for without feeling as though you're wearing a corset.
The nursing bras are made from soft material that's incredibly stretchy so the cups properly mold to your shape. What's more, being made from nylon, these bras are very breathable so if you suffer from night sweats, they're ideal.
Conclusion
A lot of people fall into the trap of thinking that they'll just kick back in a hospital gown after giving birth. While you can do this, you'll probably soon realize that you don't want to. Why? Because hospital gowns are not as comfortable or convenient as your own maternity clothing.
With so many different items such as maternity shirts and robes, tops and bras for nursing, comfortable pants, and underwear designed for the mom-to-be, there's no end to what you can take in your hospital bag.
I'd recommend taking a selection of clothes as what you'll wear will be different during actual labor than when you've got your baby in your arms and are relaxing in your hospital bed. And don't forget to pack an outfit for going home that's comfortable and stylish.