Have you been thinking about switching to cloth nappies for your baby? Are you worried that they will be too expensive? Well, don't worry! There are many ways to save money and still enjoy the benefits of using cloth nappies. In this blog post, we outline 7 tips on how to make the switch without breaking the bank. Whether it is buying second-hand or making your own diapers, there are plenty of cost-saving options available with a little creativity!
During the first few years of your child's life, nappies will be one of the most expensive expenses you will incur. With disposable diapers (which may go into the hundreds of dollars depending on how many children you have) and reusable nappies, it is possible to spend a small fortune on what is just a garbage receptacle!
We always like to know why parents choose reusables, and saving money is always one of the top reasons. A crazy combination of a lot of new stuff to buy, plus reduced income means parents look for any savings they can.
The cost savings of reusables really add up, but some parents are worried that the start-up costs will be too high. While many of us know that it's all too easy to get lost on the expensive world of pretties, cloth nappies can definitely still be factored into a tight budget. There are several budget nappies available which still do a great job.
Embrace Simple Nappies = Prefolds & Flats
Prefolds and muslins are two types of flat cloth diapers that are used for babies. They are typically constructed of cotton, hemp, or bamboo, or a combination of these materials. Muslins are precisely the same as the muslins that you use as burp rags, glorified handkerchiefs, and pretty much anything else in the first few months of a baby's life, but they are made of cotton.
Instead, prefolds are muslin that has been pre-folded and sewed into a smaller rectangle. There are three portions divided by lines of stitching in the typical pre-folded version, with the center section having twice the thickness of either the outer or middle sections. Prefolds are typically available in two sizes: size 1 is ideal for tiny infants, and size 2 is suitable for children up to the age of potty training. It is feasible to use size 2 diapers from birth; however, they will be a little bulkier.
There are lots of great brands of prefolds which will save you a lot of money compared to using all-in-one nappies or pocket nappies. For example, Econobum is a very reasonably priced nappy brand which still performs with reliability. Here's why it's so popular:
It's a one-size system so lasts from birth to potty, and can be adjusted and boosted as you need it.
The covers can be wiped clean and reused
unless they are dirty so you don't need to wash every time. The covers and inserts are really quick to wash and dry, so you don't need a huge stash.
The materials such as the waterproof fabric, snaps and elastic are the same ones which are used with bumGenius, and Econobum products still come with the one-year warranty.

Flips are slightly more expensive but offer more options. They are a luxurious organic cotton prefold system. There are 3 kinds of insert, which gives you extra flexibility:
Stay dry, available in new born size and one-size
Organic, available as a day time or a night time insert.
Disposable, which is ideal for travelling or holidays.
Like the Econobum range, the Flip covers can be wiped and reused, unless dirty, so they do not need to be washed every time, which reduces your washing mountain.
Econobum and Flip are a great way to either begin with reusable nappies, or stock up for the entire journey. Other prefold brands include Bambino Mio, with their duo system.
The benefits of using prefolds are:
They're built to last. Prefolds and muslins are simple squares of fabric with no breakable or fragile elements, making them the perfect choice for newborns. They can therefore be cleaned at high temperatures without being damaged, which is ideal for getting rid of infections or for babies with particularly sensitive skin.
They are cost-effective. It is likely that prefolds and muslins (as well as terries) will be the most affordable alternative when it comes to cloth diapering your infant.
They have a lot of flexibility. They may be folded in a variety of ways, allowing you to customize the fit for various newborns of varying sizes. As a result, they can be used for several children and can be used from infancy to potty training without difficulty (though how you use them might change).
They dry in a relatively short period of time. Due to the fact that most current cloth nappies cannot be folded out flat, drying the various layers of absorbency might take a long time. A flat cloth, on the other hand, dries extremely swiftly and efficiently.
They're particularly good for babies. Newborns require regular diaper changes, which can result in a lot of washing. However, with a system of prefolds/muslins and wraps, you can reuse the wrap if it is not dirty, allowing you to save money on laundry. Furthermore, considering their low cost, they're an excellent method to build up a well-fitting newborn stash without having to spend a lot of money on specific newborn sized nappies. You'll also be able to reuse them as inserts for pocket diapers or boosters for night nappies as your baby grows older, which is a nice bonus. In addition, because they have two layers (nappy and wrap), they are among the most bombproof of all reusable nappies. This is due to the fact that they have two lines of defense against infant poonamis!
Second-Hand Nappies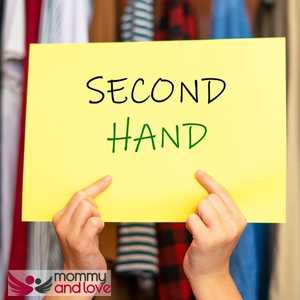 If you scour ebay or local facebook groups you may get some absolute bargains when it comes to used cloth nappies.
We've done a whole article on buying second hand nappies and how safe that is here.
There are a variety of reasons why you might want to consider purchasing pre-owned cloth diapers. Others are concerned just with picking an environmentally friendly alternative and limiting the amount of waste that is dumped in landfills or burned in landfills or incinerators. Although buying used reusable nappies over new ones can result in cost savings, most families find that switching to reusable nappies saves them hundreds of pounds each year on average.
Cheap Chinese Nappies
Cheap chinese brand nappies have flooded the market in recent years and they offer a variety of prints and designs. They generally tend to be pocket nappies and are usually fairly reliable. You can pick up these nappies for as little as £3 each, so buying 20 nappies would come in at about £60. For less than £100 you could have everything you need to start buying nappies.
We won't go into the ethics of this here. Many of these designs are infringing on the intellectual property of cloth nappy brands. So you may have to weigh up ethics vs cost. But we do understand that for many people these offer the only viable entry into using cloth nappies. We've linked to some below as an example of the different types you can pick up. Note we may make a few pennies if you click on our link and buy these products, it won't cost you anything more.
Look for Council Vouchers & Schemes
In an effort to encourage parents to convert to cloth nappies, a growing number of municipal governments are implementing reusable nappy incentive programs. It makes sense for municipalities to increase awareness and encourage local governments to work together to limit the amount of disposables that end up in landfills. Lots of councils now have schemes to help you purchase cloth nappies. The schemes are everything from free nappies to cash back. We've done a whole article listing all the free nappy schemes available now in the UK.
Cloth Diaper Banks & Charities
Cloth diaper banks are common in America and haven't really taken off this side of the pond yet. However, many people do donate their old nappies to charities to give to families in need. It's worth checking local charity shops for some, or even applying to the local Baby Bank and requesting cloth nappies. They may be able to source some for you.
Alternatively you can always put a post in local facebook groups asking if anybody has some to donate or sell for cheap.
Sell Old Ones Once You Have Outgrown
If you bought newborn nappies and your child has moved up a size, then consider selling them to fund the next size up! The beauty of cloth nappies is that if well cared for they will last several children and can hold their price well on the second-hand market.
Sales – Real Nappy Week / Black Friday
Keep an eye on your favourite retailers to see if they are doing any deals. Real Nappy Week held each year usually sees a flurry of activity from cloth nappy retailers hoping to help promote cloth nappy usage with amazing deals.
As cloth moves more mainstream, you will see big retailers do amazing black Friday or sales on nappies so its worth keeping an eye out for them!
Take Away
It is possible to make the switch from disposable diapers or traditional cloth nappies without breaking the bank. In this blog post, we outlined 7 money-saving tips on how to do just that! Whether you buy second-hand, make your own, or choose a cheaper brand of cloth nappy; there are plenty of ways for parents and carers with tight budgets to save some cash when they purchase their baby's diaper needs.
This article was written by: Gian MIller – Full-Time Writer, Baby Whisperer & Dad of 3.
Gian spends a lot of his time writing. A self-proclaimed baby whisperer, Gian has been through it all with his own children and is passionate about sharing his hard-won wisdom with other parents. When he's not writing or changing diapers, you can find him playing the guitar or watching baseball (or preferably both at the same time).