When you are a parent, there are a lot of things that you have to think about. One of the most important decisions that you will make is what type of crib mattress to buy for your child.
Parents should buy 2-4 crib mattress pads so they have extras in case they need to change the bedding in the middle of the night. Read on to find the best type for your family, from zippered to hypollergenic.
Affiliate Disclaimer: As an Affiliate, we earn from qualifying purchases.
What Is the Importance of Using a Crib Mattress Pad?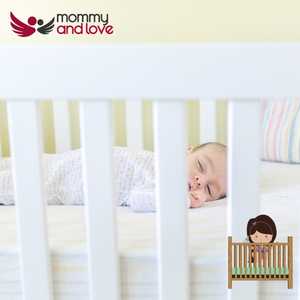 As a parent, you want to do everything you can to ensure your baby's safety and comfort when sleeping. You picked the best bed mattress for your baby's nursery and it only makes sense you want to protect it.
One important way to do this is by using a crib mattress pad. A crib mattress pad adds an extra layer of protection and cushioning between your baby and the firm surface of the soft bed mattress. It will protect your bed mattress from spills, leaks and stains.
There are many different types of crib mattress protector pads or crib pads available on the market, so it's important to choose one that will work well with your baby's crib and easy to wash to keep it clean.
Be sure to read the product descriptions carefully to make sure you're getting the right type of pad for your needs and to avoid a suffocation hazard.
For example, you want a pad that is breathable, especially babies who are sweaty sleepers. This is especially important since a baby spends most of her precious time sleeping.
Crib mattress pads often do a great job at creating a safe and comfortable sleeping environment for your baby. It helps protect against fluids, dust mites and bed bugs. Be sure to choose the right fitted pad for added protection and to help ensure a good night's sleep for everyone involved.
Also, most pads are designed to be used with a fitted sheet and if the price is not an issue, choose an organic option.
How Many Crib Mattress Pads Do You Need?
If you wondering how many crib mattress protector pads or crib pads you need for your baby registry, the answer is at least two but preferably four. You'll want one for the bottom of the crib and one for the top. This way, if there's a leak or spill, you won't have to worry about ruining your entire mattress. Plus, it's always nice to have a backup in case of accidents.
How to Choose the Best Crib Mattress Pads?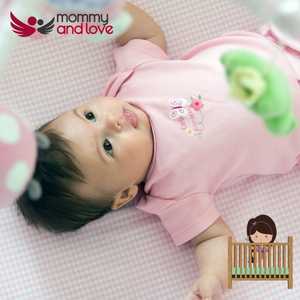 Parents often ask how to choose the best crib mattress pads. Of course, if you're using a bassinet or pack-n-play instead of a crib, you'll want to make sure the baby's crib mattress pad fits those dimensions as well.
Choosing the best crib mattress pad comes down to two things – fit and function. You'll want to make sure the mattress pad has a snug fit on the crib mattress, with no gaps around the edges.
Best Budget Waterproof Mattress Pad
When choosing a protective matress pad, look for one with two layers, a top soft layer and a bottom waterproof layer, which will protect against leaks and spillages.
We love this American baby one which is soft, no crinkly noise and has elastic all the way around to ensure it stays in place, and also is at a great price point.
It should also be a waterproof layer that provides waterproof protection in case of any accidents or spillage. Additionally, you should opt for those with two layers.
Best Hypoallergenic Waterproof Mattress Pad
If you are looking for hypoallergenic mattress protection to prevent allergies then opt for this mattress protector from sureguard.
Its hypoallergenic layer will keep mold, mildew, dust and any other particles away from your baby. The surface is 100% cotton terry, so super soft whilst not being made of any synthetic materials. Again its noiseless so no noisy crinkles to wake the baby.
Best Organic Waterproof Mattress Pad
We found this Naturepedic cover to be the perfect choice for people looking for an organic option.
100% Gots certified organic
Super soft cotton
Very thin so doesn't add bulk
Noiseless
Super effective and long lasting
Should I Buy Crib Mattress Covers With Zippers?
If you're in the market for a crib mattress cover, you may be wondering whether or not to choose one with a zipper. Here are a few things to consider that may help you make your decision:
Ease of use: A cover with a zipper will be much easier to put on and take off than one without. If you plan on using the cover on a regular basis, this may be an important factor for you.
Protection: A zippered cover will provide a higher level of protection for your mattress than one without. If you're concerned about keeping your mattress in pristine condition, a zippered cover is a good option.
Cost: Crib mattress covers with zippers tend to be more expensive than those without. If cost is a major consideration for you, you may want to opt for a non-zippered cover.
Best Zippered Waterproof Mattress Pad
Another great option when it comes to zippered crib mattress protector is this one from Biloban.
We like it because it completely covers the mattress, including the sides, top and bottom.
This completely protects the mattress from leaks from any direction, whilst the bottom isn't waterproof it does provide cover.
Are Waterproof Mattress Pads and Covers Safe for Babies?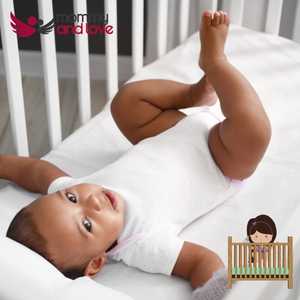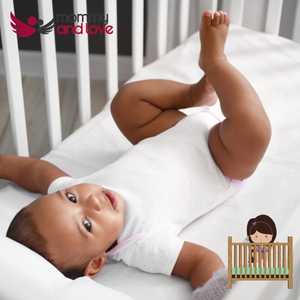 Most parents are familiar with the many benefits that waterproof pads and covers can provide. They're an effective way to protect your mattress from spills, stains, spit-up, and other accidents. But what about safety? Are these products safe for a baby?
The short answer is yes, waterproof mattress pads and covers are safe for infants. However, there are a few things to keep in mind when using them.
First, make sure the waterproof barrier pad you choose is made from safe materials. Some products may contain harsh chemicals that create an unsafe environment for your baby.
Second, always follow the manufacturer's instructions for use and care. This will help ensure that the product does not cause any harm to your child.
What Are the Different Types of Crib Mattress Pads?
When it comes to crib mattress pads and the best crib mattress protectors, there are three main types: fitted ones, those that lie flat, and smaller ones.
Fitted sheets or pads are the most common type. It fits snugly on top of the entire crib mattress so it remains in place even when your baby moves around.
Pads that lie flat are less common but they offer more coverage than fitted pads on standard crib mattresses. They often come with elastic corner straps.
Smaller pads are designed for use with travel crib mattresses and playards.
No matter which type of good mattress pad you choose, be sure to look for one that's machine-washable or can be wiped easily with water and antibacterial soap and made from breathable materials. And always follow the manufacturer's instructions when using and washing a mattress pad.
Is A Waterproof Pad or Sheet Safe for Newborns?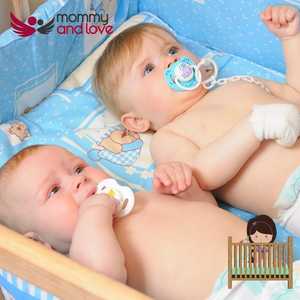 When it comes to newborns, there are a lot of things that parents have to worry about. From keeping them fed and comfortable to making sure they have a sanitary sleeping surface to sleep in – it's a lot to take on!
One question that we often get asked is whether or not a waterproof pad is safe for newborns.
Here's what you need to know about waterproof sheets and newborns:
Waterproof sheets are made from a variety of materials, including vinyl, polyurethane, and PVC. While these materials are generally considered safe, there is some concern about their effect on babies' skin. Newborns have very sensitive skin, and some experts believe that these materials may cause irritation or rashes.
If you're concerned about using waterproof sheets with your newborn, talk to your doctor or pediatrician. They can give you guidance on whether or not they think it's a good idea for your newborn baby.
In general, we recommend erring on the side of caution and avoiding using these sheets if possible. There are plenty of other options out there that will work just as well (and be more gentle on your baby's skin)!
Conclusion
How many crib mattress protectors or pads do you need? The answer is at least two. One crib mattress protector to put on the crib mattress and one waterproof crib mattress pad to have as a backup. You never know when an accident will happen, so it's always best to be prepared. Plus, having more than one means you can rotate them and keep them clean for longer.