Adults of all ages, whether they are parents or not, love going to Costco! Costco is the perfect place to buy almost anything you need for your home, whether it's a huge bottle of olive oil or a bulk pack of toilet paper.
One thing you might never have bought from Costco, however, is diapers. While Costco is great for affordable purchases, many parents are hesitant to buy diapers from this store due to the assumption that they may be of lesser quality for a lower price point.
But just how good are Costco's Kirkland baby diapers, and are they worth trying? That's what we will be investigating in today's guide to Kirkland diapers. Stay tuned to find out how much these diapers cost, what they're made of, and how they compare to other diaper brands.
Kirkland Diapers Manufacturer
It's easy to get confused about which company manufactures Kirkland diapers. Some people assume that the manufacturing company is called Kirkland, while others presume that Costco itself must manufacture the diapers.
In fact, neither of these assumptions is correct. The company responsible for manufacturing the Kirkland diapers sold in Costco is Kimberly-Clark.
Interestingly, Kimberly-Clark also manufactures Huggies diapers – one of the most popular diaper brands worldwide. This is very promising when it comes to assessing the quality of Kirkland diapers.
Despite being made by Kimberly-Clark, Kirkland diapers are still a Costco brand, which is where some confusion surrounding manufacturing comes from.
Kirkland Diaper Material
Kirkland diapers do not currently come with a full list of the materials and ingredients used in the production of each diaper. This is something that causes concern for many parents because we all want to be certain that we are not exposing our children to any harmful chemicals.
This is especially important when it comes to products like diapers because they are for babies and babies have extremely sensitive skin that is prone to things like diaper rash and general irritation.
Although there is no complete list of ingredients provided on Costco's website regarding the makeup of Kirkland diapers, the company does state that all of its diapers are made from at least 20% plant-based materials.
This is somewhat reassuring because it means that the amount of synthetic chemicals in the diapers is limited, although only 20% is accounted for. The lack of full transparency when it comes to Kirkland diapers is a major reason why some parents choose not to buy them.
Kirkland Diapers Are Free From…
Despite not being fully transparent about the materials used to make Kirkland diapers, Costco is much more forthcoming about what the diapers are free from.
Before we assess the quality of these diapers based on what they don't contain, it's a good idea to outline what substances you should avoid when choosing diapers for your baby. Then we can see how Costco's Kirkland diapers compare.
The main things you want to avoid in a diaper are irritants and toxins. These include fragrances, chlorine, dyes, and heavy metals.
You also want to make sure that the diapers you buy for your baby do not contain phthalates as these can be irritating and have other adverse health effects such as increased rates of asthma and eczema. Phthalates have even been linked to abnormal development of the genitals.
When it comes to chlorine, it is important to note that this substance (in the quantities typically used in diapers) will not cause harm to your baby. However, chlorine is notoriously damaging to the environment, which is something we'll touch on more in a moment.
Luckily, we can confirm that Kirkland diapers from Costco do not contain any fragrances, latex, lotions, and elemental chlorine. This means that some forms of chlorine still may be used, though.
Additionally, Costco does not confirm whether phthalates are used in Kirkland Signature diapers, and this is concerning because this ingredient is definitely one you will want to avoid.
Eco-Friendliness
As we have already mentioned, Kirkland Signature diapers are made with 20% plant-based materials. While this is really great, it's important not to mistake this statement for confirmation that Kirkland diapers are officially eco-friendly.
Remember, there is no comprehensive ingredient list on Costco's website or on the diaper packaging, so the content of the remaining 80% of the material used to make these diapers is somewhat unclear.
Sadly, the fact that Costco is not forthcoming about the remaining ingredients suggests that the diapers are mostly made from plastic, which may contain petroleum.
Based on the information we do have about the ingredients not included in Kirkland Signature diapers, it doesn't seem like these diapers are a particularly eco-friendly choice, unfortunately.
While Costco does state that the Kirkland diapers are free from elemental chlorine, this is not the only type of chlorine used in diaper production.
The fact that only elemental chlorine is listed in the ingredients that Kirkland diapers do not contain suggests that other forms of chlorine, which are harmful to the environment, are used to make these diapers.
The benefits of chlorine and plastic in diapers are that their use enables diapers to be sold at lower costs. This is definitely true of the Kirkland diapers, which are quite budget-friendly (more on this below).
Additionally, the use of chlorine helps to make diapers more absorbent.
Sadly, this comes at a significant environmental cost, and other brands such as Mama Bear's Gentle Touch use more eco-friendly methods to ensure the same level of absorbency at a budget-friendly price.
Costco Diaper Price Point (Compared To Target)
Buying diapers for a baby can be incredibly expensive over time. On average, parents spend about $75 every month on diapers.
So, how much are Costco's Kirkland Signature diapers, and how do they compare to the diapers you can buy from other budget-friendly stores such as Target?
If you are willing to pay $60 for a Costco membership, you will be able to purchase Kirkland Signature Supreme diapers for a budget-friendly price.
At Costco, a pack of 192 diapers in size 1 will cost you less than $30. That's just 16 cents per diaper. Moving up the sizes, the diapers get more expensive per unit because larger diapers require more material to make.
However, even the largest Kirkland size (size 6) only costs 30 cents per diaper when you buy these diapers from Costco with your membership.
Some premium-quality diapers you can buy at the moment will cost you 70 cents per unit, which is over double what you would pay for the largest size of Kirkland diapers at Costco.
With that being said, there are obvious benefits to paying more for diapers – namely, the more expensive diapers will be more friendly for your baby's skin as well as better for the environment.
Moving on from Costco diaper prices, you might be wondering how much you can purchase diapers for at other stores like Target, which doesn't require a membership to make purchases.
You can't buy Kirkland diapers at Target, but the store does stock diapers from plenty of other brands. Target also stocks its own brand of diapers (Up & Up), and these diapers are in close competition with Costco's Kirkland diapers when it comes to budget-friendliness.
In order to accurately judge which diapers are more cost-effective, however, we will need to compare the different sizes for each brand.
As we mentioned previously, the size 1 Kirkland diapers from Costco work out at 16 cents per diaper.
Comparatively, Target sells Up & Up diapers for 11 cents per diaper in the equivalent size.
Size 2 Costco diapers cost 17 cents, while size 2 from Target only costs 12 cents.
If you're purchasing size 3 diapers from Costco, you will be paying 18 cents per diaper on top of the membership, but at Target, you can get diapers in the same size for 5 cents cheaper.
Diapers in size 4 from Target cost a very reasonable 15 cents, while Costco follows behind at 20 cents per size 4 diaper.
You can find Costco diapers in size 5 for 24 cents, and just 16 cents at target.
The largest size of Kirkland diapers sold in Costco comes to 30 cents per diaper, whereas you can find diapers in the same size at Target for only 18 cents.
Again, however, just like Costco's budget diaper prices indicate lesser quality in comparison with premium brands, it seems like Target's cheaper diapers are not as well-reviewed as Costco's.
irkland diapers have an average rating of 4.7 stars online, whereas Target's Up & Up brand has only received an average of 3.5 stars.
Budget-friendliness is very important when it comes to baby products, including diapers, but you should do your research beforehand to make sure that you're happy with the quality of the diapers you are planning to buy.
After all, the health and comfort of your baby is the most important thing, and we need to look after the environment now more than ever.
Where Can I Buy Kirkland Diapers?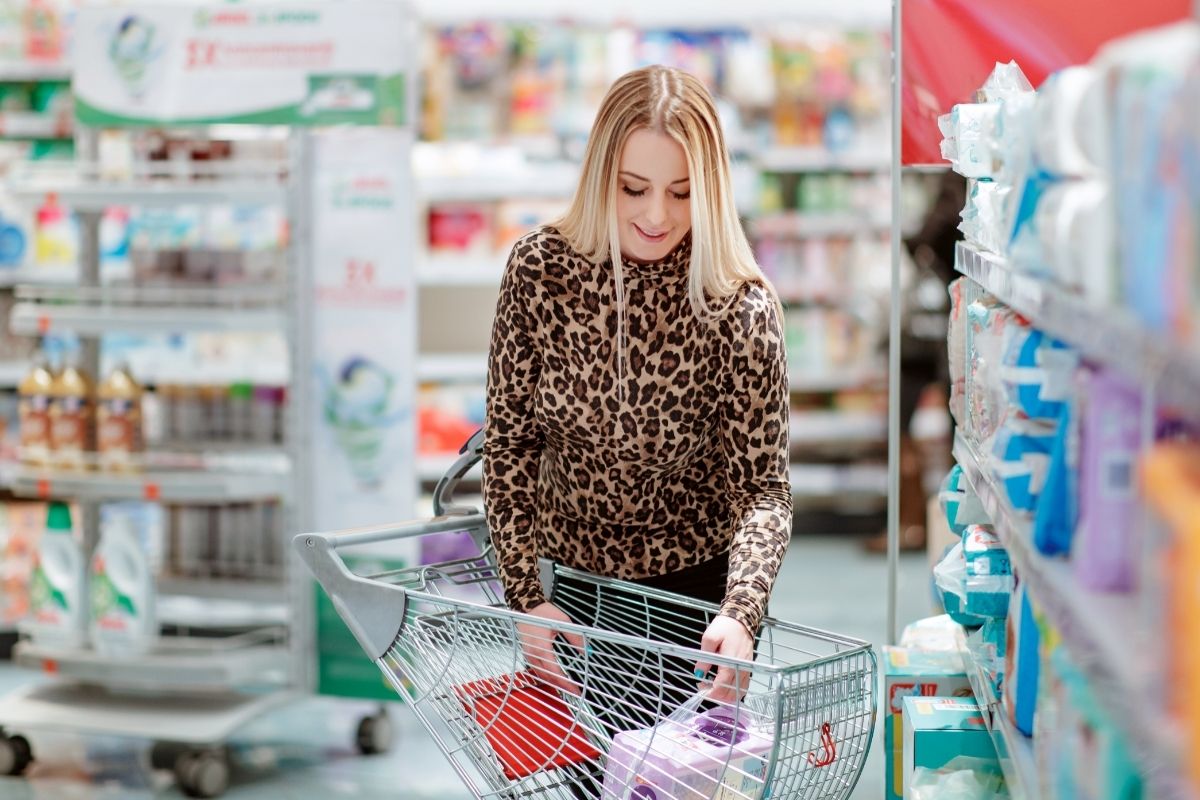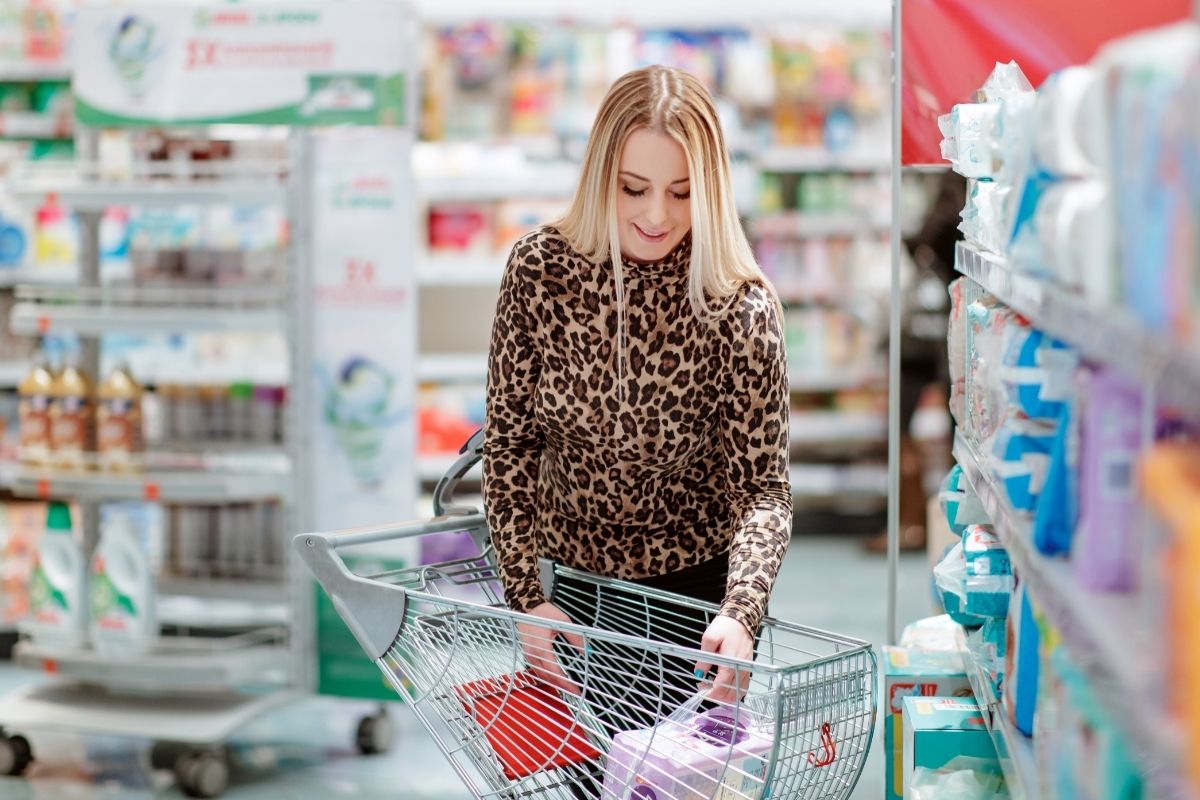 Kirkland diapers are sold in Costco, of course, but this is not your only option when it comes to buying Kirkland diapers.
You can also purchase Kirkland Signature diapers and Kirkland Signature Supreme diapers from amazon.com, which might be easier if you want to save some extra money by buying these diapers in bulk.
This may also be the best option if you don't have a Costco membership because many of the budget-friendly prices at Costco are reliant on the shopper being a member of the store.
As of right now, you can't just walk into your local grocery store and buy Kirkland signature diapers, so if you want to buy these diapers for your baby, you will need to think about how you will buy them on a regular basis.
Kirkland Diaper Size Guide
Choosing diapers in the right size for your baby is crucial if you want to avoid discomfort from material rubbing too hard against your baby's delicate skin or leakage from a diaper that is too loose.
Kirkland Signature diapers come in sizes 1 to 6.
These sizes are allocated according to weight, not age or height. This means that before choosing a Kirkland diaper size for your baby, you should weigh them as accurately as possible.
Size 1 Kirkland diapers are for babies weighing up to 14 lbs.
Size 2 will fit infants between 12 and 18 lbs.
Kirkland diapers in size 3 are suitable for 16 to 28 lbs.
If your baby weighs anywhere between 22 and 37 lbs, you should choose size 4 diapers.
Babies over 27 lbs should wear Kirkland diapers in size 5.
Finally, size 6 diapers are reserved for babies that weigh over 35 lbs.
Recent Changes To Kirkland Diapers
It is worth noting that recently, in 2020, some changes were made to Kirkland diapers that customers have noticed.
These are not drastic changes, and they do not alter any of the facts that we have stated in the article thus far, but if you read any reviews of Kirkland diapers written prior to 2020, bear in mind that they will have changed since then.
It seems like the print on Costco's Kirkland diapers has changed since 2020, but this doesn't make any difference to the overall quality of the diapers or their functionality.
However, what is more concerning is the fact that parents since 2020 have been reporting a strong chemical smell coming from the packaging once opened. The change in smell is accompanied by a new, stiffer texture.
This indicates that there may be harsher chemicals used in Kirkland diapers these days, although it is impossible to verify this because, as we have already mentioned, Costco does not provide specific information about the materials used to make the diapers.
Based on this information (and the fact that we cannot confirm whether phthalates are used in the making of Kirkland diapers), you may want to avoid this brand if you know that your baby has extra-sensitive skin, particularly if they have had breakouts of eczema in the past.
Should I Choose Kirkland Or Huggies?
Kirkland and Huggies, as we mentioned earlier, are both manufactured by the same company: Kimberly-Clark. Huggies has a very good reputation with parents of newborn babies because they are so comfortable and absorbent, but how do Kirkland diapers compare?
For one thing, Huggies offers more choices when it comes to age, activity level, and daytime/nighttime wear.
Little Snugglers from Huggies, for example, are aimed at newborns, while Little Movers are aimed at active, crawling infants. You don't get this kind of choice with Costco diapers.
In terms of materials, Huggies Special Delivery and Kirkland are very similar, both being made of 20% plant-based materials with no detail as to the rest of the materials.
It should be noted that Special Delivery is the only Huggies variety that is made from 20% plant-based material. Neither brand comments on the use of phthalates, but Special Delivery from Huggies is free from fragrances, elemental chlorine, and lotions, just like Kirkland.
Huggies Special Delivery has an average rating of 4.8 stars on Amazon, whereas Kirkland is rated 4.7. So, the reviews are fairly similar with Huggies just having the edge.
It's also easier to buy Huggies than it is to buy Kirkland diapers. This is because Kirkland diapers are basically only available through Costco (with a membership) or Amazon, whereas you can find Huggies in grocery stores across the U.S.
Alternatives To Costco Diapers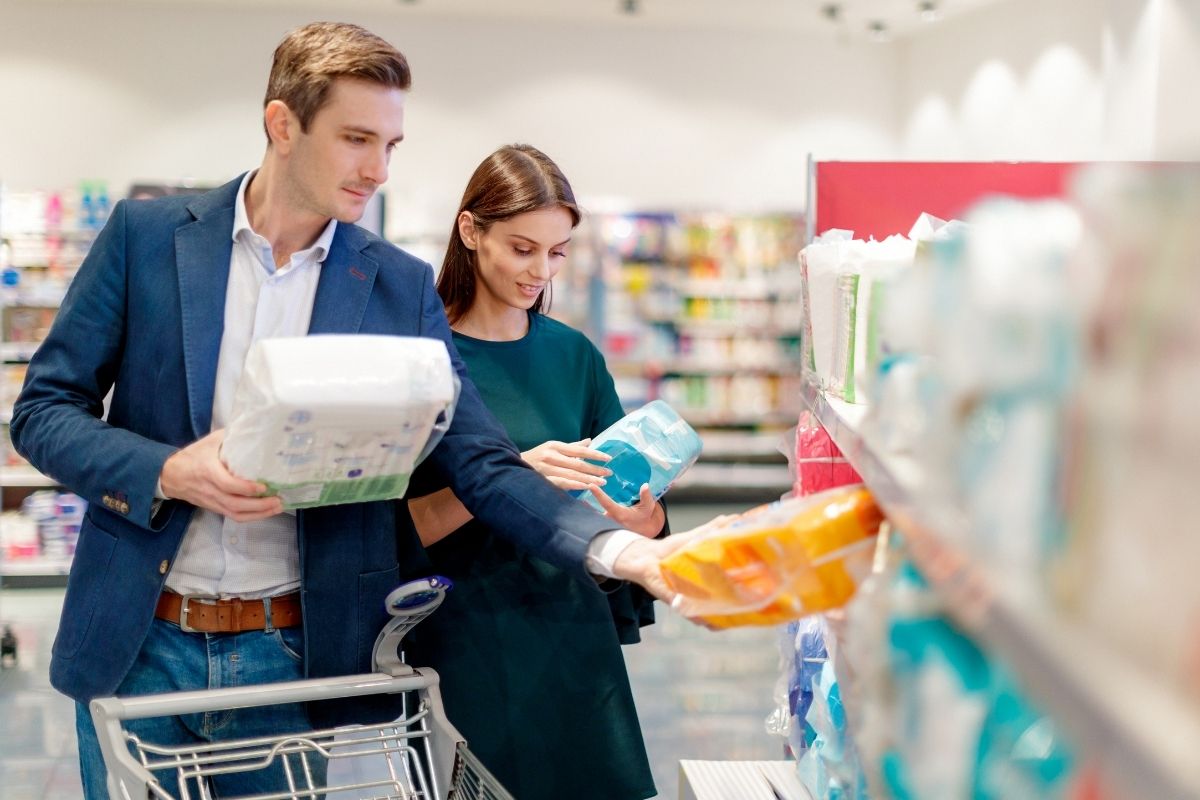 We've mentioned a few different diapers brands in this article, and by this point, you may be wondering which brand is the best overall.
Unfortunately, there is no simple answer to this question because every diaper is built differently and has different advantages as well as disadvantages compared to its competitors.
With that being said, if you can decide what it is you want to prioritize with your choice of diapers, you will be one step closer to deciding which diaper brand meets your needs as well as your baby's needs.
Following on from the previous section about the best diaper brands on the market, it's a good idea to know which diapers are the best alternatives to the Costco (Kirkland) brand.
Even if you do choose to buy Kirkland diapers for your baby, they can sometimes be hard to find, so it's good to have a backup plan in case your local Costco is sold out one day, and you can't get a delivery in time.
One brand that we mentioned earlier that we would recommend as an alternative to Kirkland diapers is Mama Bear's Gentle Touch.
Mama Bear's Gentle Touch is an eco-friendly brand that does not use phthalates, chlorine, fragrances, or lotions. The Gentle Touch variety (not to be confused with 'Best Fit') is also produced in a zero-waste-to-landfill factory, so these diapers are great for the environment.
Kirkland Diapers Overview (Pros And Cons)
Pros
Budget-friendly
No fragrances
No latex
No lotions
No elemental chlorine
Breathable material
Wetness indicator
20% plant-based
6 sizes
Size-up indicator
Cons
No additional material information (likely use of phthalates)
Only available at Costco and Amazon
Conclusion
If you're looking for a budget-friendly diaper brand, Kirkland diapers from Costco could be a good option for you. They are sold for a maximum of 30 cents per diaper at Costco and can also be purchased from Amazon.
However, Costco memberships are expensive, and you won't find these diapers in other stores, which can be impractical.
We would also advise caution when buying Kirkland diapers due to the fact that they are not transparent about the use of certain chemicals like phthalates, which can be damaging to your baby's health.
These diapers also contain chlorine, and it's safe to assume that they contain petroleum-based plastics.
With that being said, Kirkland diapers are made from 20% plant-based materials and come with useful features such as wetness and size-up indicators, so for budget diapers, they are a practical and well-reviewed choice.