When it comes to choosing the best bassinet for your little one, you want something that will be safe and comfortable for them to sleep in throughout the night.
The best way to ensure that your baby's bassinet is comfortable and secure is to invest in a luxury bassinet.
Of course, these bassinets come with high-end price tags, but the consequences of using a cheaper, low-end bassinet can be very dangerous because the construction is not as reliable.
There are plenty of luxury bassinets on the market right now, but we've chosen our top 5, and we will be reviewing each one for you today.
If these bassinets fit within your budget, they will provide your baby (and you!) with the best night's sleep ever!
Affiliate Disclaimer: As an Affiliate, we earn from qualifying purchases.
We highly recommend the HALO BassiNest Swivel Sleeper, and not just because of the clever play on words.
The best thing about this bassinet is that it rotates a full 360 degrees, so you'll be able to access it at all times, even in the middle of the night when you're in bed.
The height is also adjustable by 10 inches, so taller parents don't have to hurt their backs by bending over it, and you can adjust it to the height of your bed!
In fact, the bed itself is removable from the base, so you can use it at ground level or place it on a different surface as needed. Just be aware that the bed is actually quite heavy so moving it can be difficult.
All the bedding is machine-washable for easy cleaning, but the bedding should stay fairly clean thanks to the waterproof pad included in the purchase, which is free from harmful chemicals.
Pros
360-degree rotation – Fully accessible
Height-adjustable – Suitable for all heights
Removable bed – Versatile
Includes waterproof pad – Practical and chemical-free
Machine-washable bedding – Easy cleaning
Cons
Fairly heavy – Not always easy to move
Also Available At: Halo, Boots
Another well-reviewed luxury bassinet is the 4moms mamaRoo Sleep Bassinet!
The construction of this bassinet is great, with a flat, firm mattress and mesh walls. The mattress is supportive, and the flat surface is designed to prevent accidental rolling.
Plus, the mesh walls not only improve airflow to the bassinet but also ensure that you can easily see into the bassinet to monitor your baby.
Thanks to the Bluetooth connectivity, you can easily access and control all the functions, such as the 5 different soothing motions, from your phone, which is very practical.
Our only complaint is the fact that the bassinet automatically shuts off after a 4-hour period, and when this happens, the sudden change can wake up the baby.
Pros
Bluetooth connectivity – Remote control
5 soothing motions – Relaxing
Mesh walls – Optimal airflow and visibility
Firm mattress – Safe and supportive
Cons
Automatically shuts off – May wake baby
Also Available At: 4moms, John Lewis, Kiddies Kingdom
SNOO's Smart Sleeper Baby Bassinet is one of the most popular luxury bassinets you can buy.
This bassinet automatically senses your baby's movements and interprets them to choose the right soothing motions and sounds to lull them back to sleep.
This is an incredible feature that means you barely need to do any work to soothe your baby at bedtime.
The SNOO Smart Sleeper Baby Bassinet is also incredibly safe.
The mesh material used for the walls ensures a great degree of breathability, and the patented swaddle is the main reason why SNOO has achieved 150 million hours of sleep using their bassinet without any cases of Sudden Infant Death Syndrome.
All of these safety and soothing features are reflected on the price tag, though. Even parents looking for a luxury bassinet may not be able to afford this one, which is a shame because it's definitely one of the best options out there.
However, you can always consider renting the snoo which makes it very affordable.
Pros
Automatic sound and motion adjustment – Effortlessly soothing
Mesh walls – Maximum breathability
Patented swaddle – Safety-enhancing
Cons
Most expensive option – Not within all budgets
Also Available At: Happiest Baby
If you're looking for a luxury baby bassinet that works as a bedside sleeper, why not try the Maxi-Cosi Iora Bedside Bassinet?
Thanks to the sliding function and adjustable height, this is the perfect bassinet to place at your bedside. You can adjust it to the right height and pull it towards you in seconds, allowing you to care for your little one day and night without any fuss.
We also really like the fact that the bassinet comes with a large storage basket underneath, so you can keep your baby's diapers and other essentials close by.
Like many of the bassinets we've featured in this guide, the walls are made of mesh material for maximum breathability, which is very important for your baby's sleeping environment.
The only problem with this bassinet is the fact that it's so large. Of course, this can be viewed as a positive thing, but it does make the bassinet less portable overall.
Pros
Sliding function – Easy to access
Adjustable height – Perfect for all heights
Mesh panels – Optimal breathability
Includes storage basket – Practical
Cons
Large size – Not the most portable
Also Available At: Maxi-Cosi
If you know anything about luxury bassinets, you've probably been waiting for us to talk about this one. The BabyBjorn Cradle is a favorite with parents all over the United States and abroad.
This cradle doesn't have the fancy bells and whistles you might find on other luxury bassinets, but the great thing about this bassinet is its streamlined, portable, practical, and stylish design.
Polyester mesh walls ensure breathability, but they also go well with the wooden frame for a simple, stylish construction that fits into any room seamlessly.
The design is also streamlined and lightweight, so the bassinet won't take up too much space in your home and can easily be moved around as needed.
Unfortunately, the short base isn't height-adjustable, which can be an issue for parents who don't want to have to stoop down to pick up their baby when using the bassinet.
Pros
Machine-washable material – Easy washing
Wood and polyester construction – Stylish and breathable
Lightweight – Easily portable
Streamlined design – Space-saving
Cons
Short base – Not practical for tall parents
Also Available At: BabyBjorn, Baby List
How To Choose A Luxury Bassinet
Because all the bassinets we've reviewed today are luxury, high-end products, you can trust any of them to provide your baby with a safe, relaxing sleeping space.
However, that doesn't mean that every single one of these bassinets will be perfect for you and your little one.
There are some important factors you will need to consider before buying a luxury bassinet, such as:
Safe Design
When looking at luxury bassinets, your first priority should always be safety. If something goes wrong with your baby's bassinet, they could sustain serious injuries.
Sudden Infant Death Syndrome is a condition that doesn't have a known cause, but it is thought that environmental stresses (such as a less-than-optimal sleeping environment) may interact with biological factors to cause this kind of tragic and unexpected death.
To put your mind at ease and prioritize your baby's safety, you need to make sure that the bassinet you choose comes with all the necessary safety features.
A few of the more common safety features include:
Safety straps – These straps keep the bassinet from tipping over or shifting. They're easy to use and adjust, and they come in different colors.
Swaddles – A swaddle helps to stop your baby from rolling around in the bassinet, ensuring that they stay safely on their back.
Solid frame – Frames should be made of metal or wood and should ideally have a wide base. Even streamlined bassinets should have a wide enough base to ensure the bassinet never tips over.
Soothing Technology
You'll notice that most luxury bassinets feature some type of soothing technology. This means that they emit sounds and create movements designed to help babies fall asleep faster and sleep longer.
There are two main types of soothing noise technology used in luxury bassinets: white noise machines and lullabies.
White noise machines produce sound waves that mimic the noises of nature, like raindrops falling on leaves or birds chirping. Lullabies are songs that are specially selected to calm babies and help them drift off to sleep.
You can also choose a luxury bassinet that uses movement to soothe your baby. Luxury bassinets often have different motion settings to rock your baby to sleep, and some even select the right setting automatically by using motion sensing technology to monitor your baby's activity.
Connectivity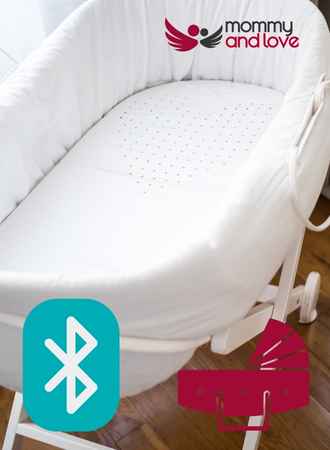 Luxury bassinets sometimes come with Bluetooth connectivity, allowing you to control music, movement, and other functions via your smartphone. 
If you've ever wanted to be able to soothe your baby in the middle of the night without stumbling across your bedroom in the dark, a bassinet with built-in Bluetooth connectivity could be the perfect choice for you.
Just be aware that some apps might not work on all phone types, so it's best to research this ahead of time so that you can be sure you'll be able to make use of all your luxury bassinet's amazing features.
Also, make sure you establish whether the app connectivity enables you to use your phone as a monitor or simply change the settings.
This is an important distinction because one allows you to watch or listen to your baby without being in the same room, while the other doesn't. 
Materials
The materials used in luxury bassinets vary greatly, and you will want to prioritize different materials depending on what you want out of your purchase.
You'll find that many luxury bassinets are made of wood, while others are made of metal or even plastic.
Some are even made of a combination of materials. Ideally, we recommend prioritizing a strong frame made of metal or wood for your baby's safety. 
Please also consider the fabric materials used in the construction of your chosen bassinet.
You'll want to look for fabrics that are soft and breathable, which will allow air to circulate throughout the bassinet. Polyester mesh walls are a great example. 
It's a good idea to make sure that any bedding that comes with the bassinet is machine-washable. This is important even if the bassinet comes with a waterproof pad because, of course, you will still need to wash the bedding regularly regardless of whether it is visibly soiled.
You can handwash the bedding if you want, but most parents find it much easier to work with machine-washable bedding.
Manufacturer
Please only buy bassinets from reputable manufacturers.
This is one of the positives of spending more money on a luxury bassinet because the higher-end bassinets are usually made by reputable companies and have undergone safety testing. 
Check out customer testimonials about any company you're considering buying a luxury bassinet from.
You should be able to see the average star rating for the specific product you want to buy as well, which should tell you how good it really is. 
If you can't find a lot of information about a manufacturer, the chances are they are not very reputable, and you should look at other bassinets, especially if you're planning to spend a lot of money for the sake of your child's safety.
Final Thoughts
We hope that this guide has helped you decide on the right luxury bassinet for your needs.
We know that choosing a bassinet can be difficult, especially when high price tags are involved, but hopefully our tips have given you a better understanding of what to look for. 
Remember to only buy luxury bassinets from manufacturers you can trust and check the safety features included while doing your research.
Safety should always be your number 1 priority, and investing in a luxury bassinet is the best way to make sure that is the case.