Are you looking for a baby crib or bassinet? If yes, then you should consider renting a Snoo bassinet. This is because Snoo produces one of the best rocking bassinets on the market. Their products are also safe, convenient, and affordable.
You can rent a Snoo bassinet from a local store or through an online service. These are great options for parents who want to get their kids ready for sleep without having to worry about purchasing a new crib.
In the following guide, we will take a look at the pros and cons of renting a Snoo bassinet. And whether it is more cost-effective to purchase the sleeper instead. We've also looked at the Best Alternatives To Snoo
So if you want to learn more about this amazing bassinet, then this article has everything you need to get started.
Affiliate Disclaimer: As an Affiliate, we earn from qualifying purchases.
What Is The Snoo Smart Sleeper?
The Snoo smart sleeper is a bassinet that uses gentle rocking motions and white noise to help babies drift off into dreamland, created by Dr Harvey Karp. It is made from soft foam and fabric, which means it is suitable for babies of all ages. The bassinet is also easy to clean and maintain.
The smart bassinet can be controlled via an app and comes with Wi-Fi, speakers, and sound sensors that are able to detect your baby's distress.
When the baby wakes, the snoo activates and responds by gently rocking the baby back to snoo sleep. Many parents experience that in just a week, their babies were sleeping a long longer and sleep deprivation was a thing of the past! Parents love how they can put the baby into the Snoo and have the snoo slowly rock their baby to sleep.
Because of these amazing features, the high-tech bassinet can cost up to $1,595, which is a lot of money for something that will only be used for a few months. However, there are ways that you can save some money when considering a Snoo bassinet.
While it is possible to purchase the sleeper secondhand, it is even easier to rent the bassinet from companies such as Happiest Baby. This service usually costs around $5 a day, which totals $150 a month.
To help you choose the best option, we have taken a detailed look at the Snoo rental service and everything you need to know about the product.
Buy VS Rent – You Decide!
If you decide to buy a Snoo bassinet, you will have to spend between $1000 and $2000. But if you decide to rent a bassinet, you can expect to pay around $5 per day. So depending on how long you plan to use the bassinet, you may end up saving money by choosing to rent.
However, if you do not mind spending a little extra, buying a Snoo bassinet might be worth the investment. For example, if you plan on having more children, then you could use the bassinet again and again until it is no longer needed.
On the other hand, it seems that renting the bassinet still remains the better option, as it will cost much less than buying the product outright. Even when you factor in the cost of the reconditioning fee and shipping, it is clear that renting is cheaper than buying.
The minimum rental period for the bassinet is one month, which means you can test it out and see if renting the Snoo is worth the money. If you decide to keep the bassinet after the trial period, you may have to pay for storage fees, but this is only in certain situations.
If you want to learn more about the rental service, then we have provided some important information in the section below.
How To Rent A Snoo Bassinet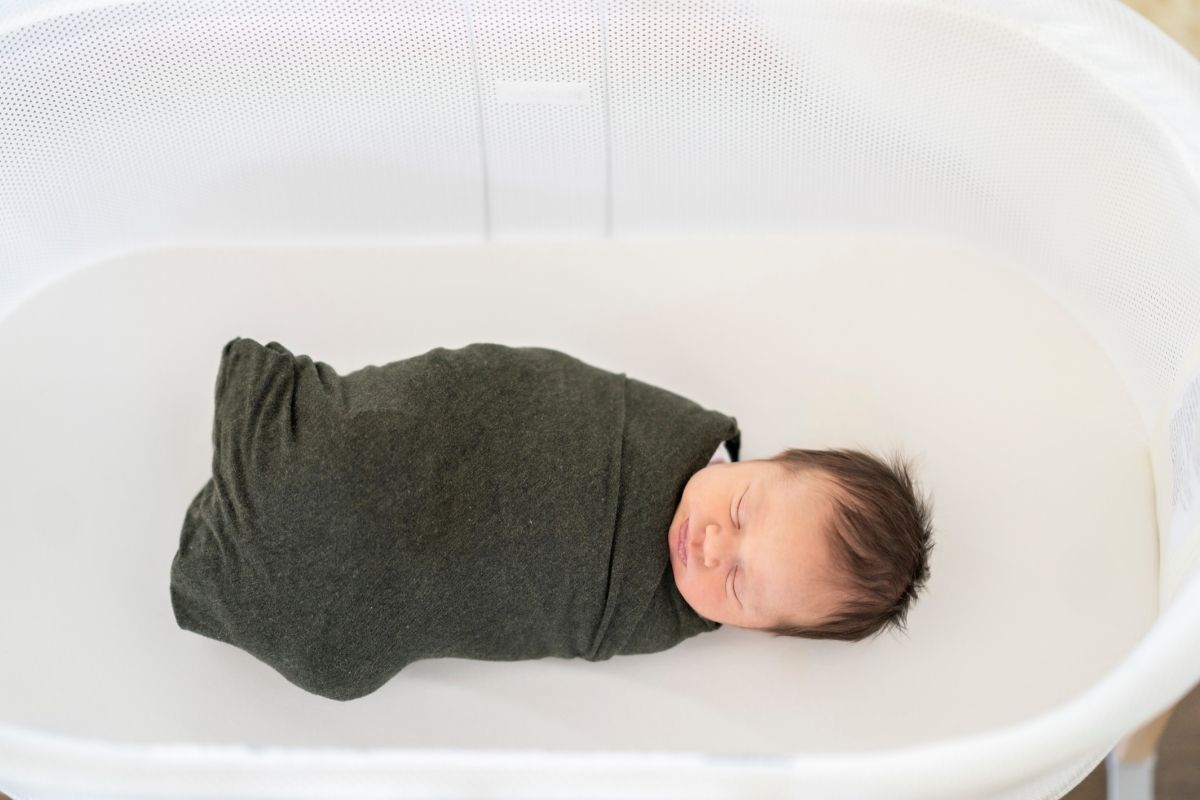 If you are interested in renting a Snoo bassinet, you will need to take a closer look at the rental terms. Fortunately, we have covered the basics in the following section:
Total cost: $150 a month ($5 a day) + $90 reconditioning free + $99 security deposit (refundable) = £339 for one month minimum rental.
Shipping fee: Free
Return Shipping: $60
Minimum rental period: 1 month
If you have multiple children, then you can rent up to 3 Snoo bassinets as needed. Because of its design, the Snoo bassinet does not require a pediatrician's prescription. Look out for black Friday or a cyber Monday deal which may help reduce the costs.
However, if your child does suffer from a medical condition, it is advisable to seek professional advice before renting the bassinet.
Sanitation
Of course, renting a bassinet comes with a number of risks. Whether that be safety or hygiene. It is very easy to get sick while using a bassinet. Therefore, the company always makes sure that the bassinet has been thoroughly cleaned before renting it out to a new family.
In fact, the Snoo bassinet undergoes a rigorous sanitation process, which is completed in 5 efficient steps:
The bassinet is vacuumed to remove debris and dust particles from the fabric.
It is then cleaned and sanitized using hospital-grade products, which are baby-safe and used in NICU wards.
The bassinet then undergoes a deep cleaning, which involves the outer and inner mesh being sanitized with hot steam.
Once the bassinet is clean, the mattress and bedding are replaced with clean sheets and cotton blankets.
Finally, the bassinet is tested for safety, as well as security sensors, motion sensors, sound sensors, and other special features.
When this process is complete, the Snoo bassinet is quarantined for 10 days to ensure the safety and well-being of your newborn baby.
Extras
Some Snoo bassinets come with various extras, which include brand-new items such as:
3 sleeping baby sacks
New mattress
Fitted sheet made from organic cotton
Charge
When you have completed your rental order, you will be charged for the first month's rent. You will also be expected to pay a refundable security deposit and the reconditioning fee.
After this, you will be charged automatically for the monthly rent. Once the 1-month rental period is up, you can cancel the service whenever you want.
However, you will need to save the shipping box and everything inside, as you will need this to return the bassinet to Snoo.
Returns
When you have finished using the bassinet, you will need to return it to the company. The company will provide you with an address where you can send back the bassinet. In addition, they will also cover the shipping fees.
After they have received the bassinet, you will be refunded your security deposit. However, this will depend on the condition of the product and whether there are parts missing.
If you want to ensure a full refund, then you will need to pack the bassinet carefully. Fortunately, there are instruction videos that can help you to do this correctly.
If the original box has been damaged, you will be able to get a replacement from Snoo. However, this service does cost $48.
When the bassinet has been returned, your security deposit should be refunded within 5 – 10 working days. Just make sure the product has been properly wrapped before sending it back to the company.
Can You Cancel Snoo Rental?
You can cancel your Snoo rental up to one business day before shipping. If you wish to cancel after this time, then you will not receive any refunds.
Cancelling your Snoo rental is simple to do. All you need to do is access your account and should have everything you need to cancel the order.
You can also access your account to change details such as your address and shipping date. There is also a limited warranty covering the bassinet, which means you will need to report any defects the minute you see them.
What If The Snoo Malfunctions?
If the Snoo bassinet malfunctions during the rental period, you will need to contact Happiest Baby customer service and report the problem.
Following this, you will be sent a replacement bassinet right away. In fact, some parents have claimed to receive their replacement within 1 -2 days of making the call.
Is Snoo Rental Worth It?
There is no true answer to this question, as different parents have had different experiences with the rental service and the bassinet itself.
Some parents have found the bassinet to be very useful, while others have said they would never use it again. The main thing to remember when renting a Snoo bassinet is that you should always check what you are getting yourself into.
It may seem like a good idea at first, but if the bassinet doesn't suit your needs or lifestyle, then you might find yourself regretting the decision. This is why we recommend talking to other parents who have used the bassinet before deciding whether to rent it or not.
In addition, you should consider how much you are willing to spend. Some parents pay hundreds of dollars for a baby carrier, while others prefer to buy their own. Ultimately, the choice is yours, so just make sure you know exactly what you are doing before renting your Snoo.
You will have to store the snoo packaging so at the end of the Snoo bassinet rental you can return it all to the Happiest Baby company, however, that's really not a big deal.
Why Do Parents Rent Snoo Bassinets?
If you are still interested in renting a Snoo, here are some reasons that may explain why people choose to rent instead of buying.
Price – A lot of parents say that renting a Snoo bassinet is cheaper than buying one. This is because you don't have to worry about paying the full price and assembly fees. Renting makes more financial sense as its less outlay and less money.
Trial – Many parents believe that renting a Snoo is better than trying out a new product without spending money on it. They claim that you can try out the bassinet before committing to a purchase.
Older Babies – Babies are ready to leave the crib at 5 – 6 months, so if your child is already 2 – 3 months, they won't need their bassinet for very long so its better to rent bc it's a much cheaper option..
Travel – If you often travel, renting a Snoo bassinet is an easy way to keep your baby safe and sound. Especially if they are used to a smart sleeper at home.
Resale – If you rent a Snoo bassinet, you won't have to worry about the hassle of selling it after your baby has grown up.
Now that you understand the benefits of renting a Snoo bassinet, let's take a look at how you can use the product to keep your baby relaxed and rested.
How To Use Snoo Bassinet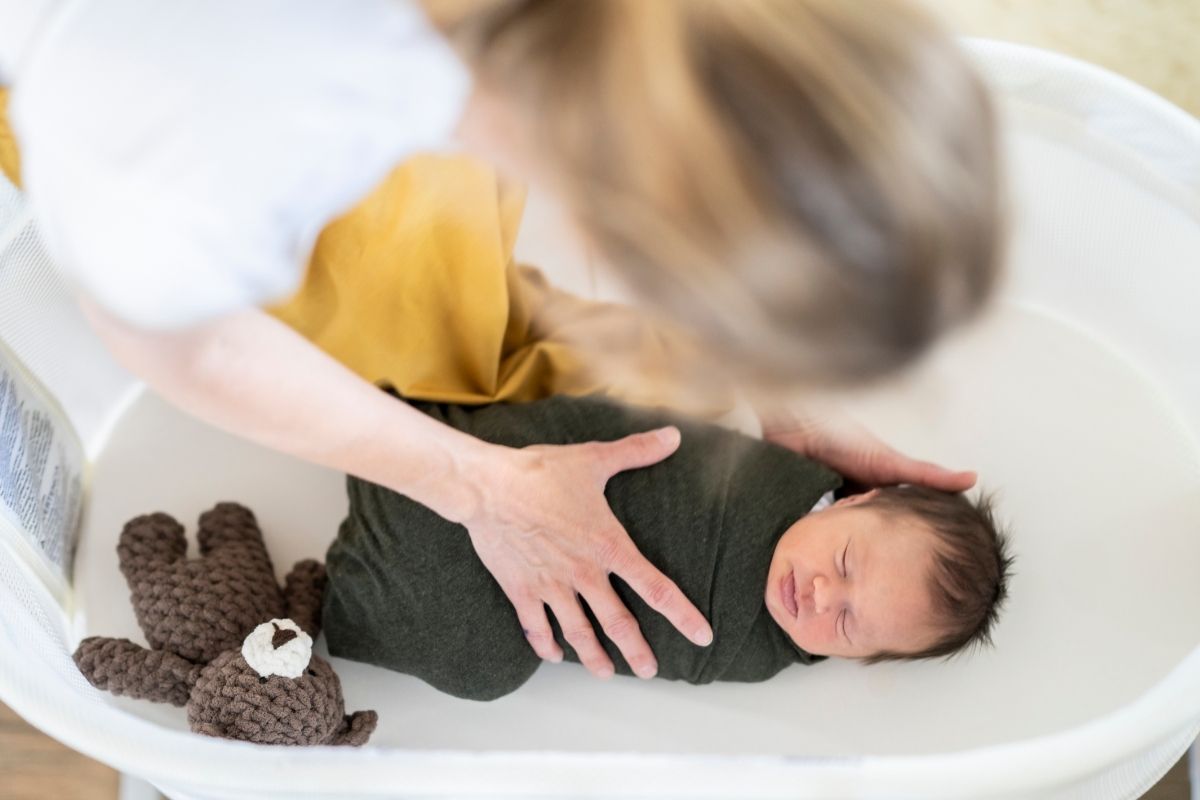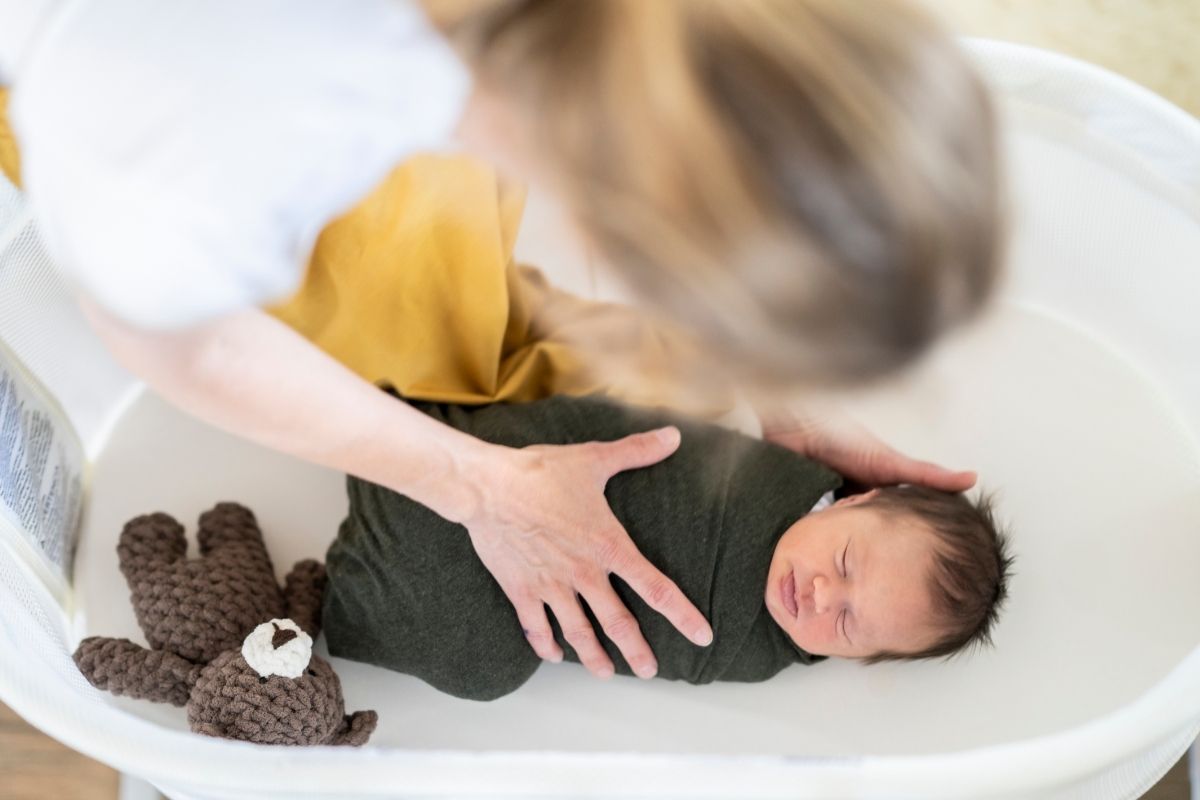 When using a Snoo bassinet, you will need to swaddle your baby before putting them in their crib.
Fortunately, Snoo also produces sleeping sacks that are comfortable and suitable for all babies and baby takes seconds to put in one.
Most babies prefer to be swaddled while they sleep, as it helps them feel secure and calm.
Once your baby is asleep, simply place them in the bassinet and secure them with the provided clips. This helps to reduce the risk of your baby dying in their sleep, as it will keep them on their backs and prevent any suffocation.
The bassinet also features an automated rocking motion and white noise, which promise to keep your baby sleeping soundly throughout the night.
If your baby moves or cries, the bassinet's sensors will pick up on their distress. You can also control the bassinet via a mobile app, which allows you to track your baby's sleep patterns and keep them calm.
Do Snoo Bassinets Work?
While there isn't enough research available to prove that Snoo bassinets work, many parents report feeling more confident when using the product. They claim that it keeps their baby calm during the night and reduces the risk of SIDS.
The bassinet can also provide 1 – 2 hours of uninterrupted sleep, which can be beneficial for stressed and tired parents. The product also helps babies to sleep through the night, providing them with hours of healthy sleep.
Frequently Asked Questions
How Long Should You Rent The Snoo?
You should consider renting the Snoo until your baby reaches 6 months old. At this point, most babies are able to roll over onto their stomachs and move around in their cribs.
How Much Does Renting A Snoo Cost?
In most cases, renting a Snoo bassinet will cost $5 a day, which can round up to $149 a month. You will also have to pay a $90 reconditioning fee, a $60 return fee, and a $99 refundable security deposit. You will receive bedding as part of the rental package.
Should You Return The Swaddles After Use?
You will not need to return the swaddles when you return the bassinet. This is because the company prides itself on giving parents clean and hygienic bedding although there is not a significant advantage to keeping them.
Are Snoo Bassinets Suitable For Newborns?
Yes! Snoo bassinets are designed specifically for newborns. The bassinet comes with a mattress that is soft and gentle on newborn skin.
It can also be used until your newborn reaches 6 months old, making it ideal for new parents.
What Are The Benefits Of Using A Snoo Bassinet?
Using a Snoo smart baby bassinet provides several benefits for both you and your baby.
First, it will help to keep your baby safe and secure. Second, it will allow you to get some much-needed rest. Third, it will make your life easier by reducing stress levels and allowing you to focus on other tasks. Finally, it will give you peace of mind knowing that your baby is safe and well-rested.
A bassinet is a type of bed that has a mattress and a base. The mattress is usually placed over the base, which helps to support it. Cribs come in various shapes and sizes, which means you will need to rent a crib that accommodates your child.
Take Away on Snoo Bassinet Rental
Renting a Snoo bassinet is a great way to ensure that your baby sleeps safely and comfortably. However, if you decide to purchase one, make sure that you choose a model that meets all of your needs.
If you've rented the snoo what was your snoo rental experience? We'd love to hear from you!
This article was written by: Gian MIller – Full-Time Writer, Baby Whisperer & Dad of 3.
Gian spends a lot of his time writing. A self-proclaimed baby whisperer, Gian has been through it all with his own children and is passionate about sharing his hard-won wisdom with other parents. When he's not writing or changing diapers, you can find him playing the guitar or watching baseball (or preferably both at the same time).