If you are coming to the end of your cloth nappy journey and are no longer using cloth nappies and have some old ones lying around, you might be asking yourself, what do you do with old reusable nappies? You have basically about 7 options, which include,
selling them for a small profit;
donating them to someone local in need;
donating them to a nappy library;
repairing and reusing;
repurposing them;
recycling them, or if they can't be recycled anymore;
you can always compost them.
Let's look at each option in more detail.
Selling Second Hand Nappies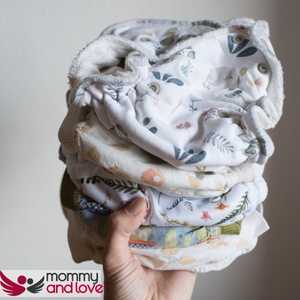 If you are looking to make a few dollars, selling them second-hand is always an option.
You can sell your second-hand reusable nappies online or locally on social media sites like Craigslist or even eBay.
A used nappy in great condition should sell for about 50% of the original cost (this price varies depending on brand and even print, check out our guide to selling second-hand nappies here). The second-hand market is usually quite active and vibrant as people like to try different brands, styles or even just get some new prints!
Donate Nappies To Someone in Need
Poverty is a real issue for many families right now and disposable nappies can make up a huge part of a family budget. Jenn from Cottonbabies, the makers of bumGenius actually started using cloth diapers as she literally could not afford disposables in her weekly shop. A few friends clubbed together and send her some cloth nappies and from them stemmed one of the best-known brands of cloth nappies on the market today and she became Americas nappy lady! You never know how a simple offer of some old nappies may change a life!
Of course, not all families will want to use cloth, so ask first. Or simply offer them on a local Facebook group or a Craiglist for a freecycle group. We have a guide on where to donate nappies which you might find useful to read.
Local charity shops may or may not take them, its best to ask!
Donating Cloth Nappies to Local Nappy Libraries
Nappy libraries are popping up all over the place and they generally accept reusable nappies. Not all libraries will want all types of nappies so get in touch with your local library first and see if they are interested in your old nappies. If not, they may know another library that is in need. Donated nappies are how most cloth nappy libraries survive! Unwanted nappies soon find a loving home there and help other people start their cloth journey.
Remember some libraries are commercial libraries, basically online retailers, so you might not want to donate to them. Read our guide to cloth nappy libraries for further information.
Repair your old nappies
If you still have a child using nappies you might just have some which you think are too old or broken and can't be fixed. However, there are many simple repair tricks that can breathe new life into old nappies.
The first way is simply to repair the elastic if this has gone. Many brands now sell diaper refresher kits that include velcro or elastic replacement, as these are the bits that wear out first. It's usually fairly simple to repair but if you are no good at doing repairs, ask a local Facebook sewing group if anyone can help out. I know of several moms who offer this as a service nationwide, taking in 'broken' nappies and sewing new life into them.
Re-purposing Cloth Nappies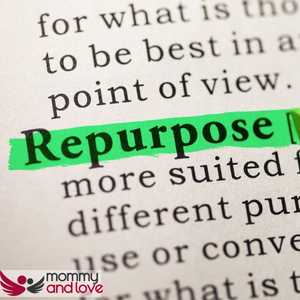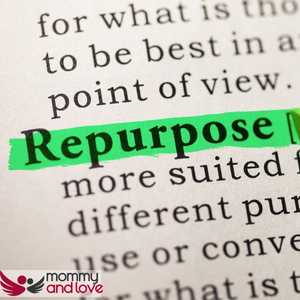 If you have a cloth nappy that is too worn out to donate or sell, don't just throw it away as there are many ways in which you can reuse them for other jobs.
Flat nappies or pre-folds are amazing for.. oh so many things! You can use them under the sheets as a bed protector when you are potty training. Or even to put on the car seat when they are potty trained in case of any accidents.
Old cloth nappies make great dolls nappies. Your baby might have outgrown them but her baby hasn't!
Here are some ideas:
The inner absorbent bits make great rags etc for around the house. Just cut them into useful size pieces and keep a bag of rags for whenever you need them. Parents always need rags for spills and messes!
For the pretty pul covers these can be repurposed into so many things like mini wet bags (idea if you are moving to cloth sanitary protection), keyrings, bookmarks, dolls clothes… the list goes on!
Composting Reusable Cloth Nappies
Many people choose to compost their old reusable cloth nappies as it is a great way of recycling them. Simply place your used cloth nappy into a compost bin and allow the bacteria to break down until there are no fibers left, then use this soil in your garden or house plants.
Recycling Cloth Nappies
If you cannot compost your old reusable cloth nappy then you can take them to local fabric banks to be recycled.
If in doubt, always check with your local waste management services to see if they have a specific recycling program for cloth nappies and the local recycling center.
What can you do with used disposable nappies?
Sadly, you don't have nearly as many options for your old used disposable nappies. Most used disposables are sent to landfill for hundreds of years or incinerated.
Can you recycle disposable nappies?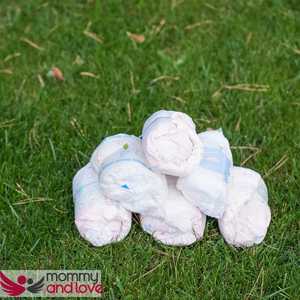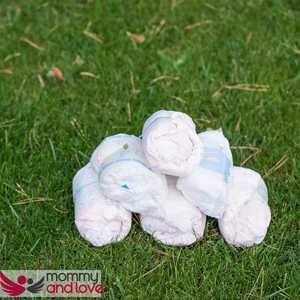 Unfortunately in the Uk, there are not many schemes to recycle disposable nappies. The technology is not there to make this cost-effective just yet.
The recycling industry is more advanced in Europe as there are several schemes like this.
Take Away
Selling second-hand nappies, donating reusable cloth nappies to someone in need, donating cloth nappies to a library, or re-purposing them are all great ways of reducing the impact on the environment. If in doubt, always check with your local waste management services to see if they have a specific recycling program for cloth nappies. It just goes to prove how even at the end of their life, reusable nappies are much better for the environment compared to disposables.
This article was written by: Gian MIller – Full-Time Writer, Baby Whisperer & Dad of 3.
Gian spends a lot of his time writing. A self-proclaimed baby whisperer, Gian has been through it all with his own children and is passionate about sharing his hard-won wisdom with other parents. When he's not writing or changing diapers, you can find him playing the guitar or watching baseball (or preferably both at the same time).