Throwing a diaper baby shower doesn't have to break the bank! In fact, there are many fun and frugal ways to celebrate the upcoming arrival of your little one. This blog post will provide tips and ideas on how to throw fabulous diaper showers without spending a fortune. From decorations to food, we have you covered. So get ready to welcome your new arrival in style!
What Is a Diaper Baby Shower?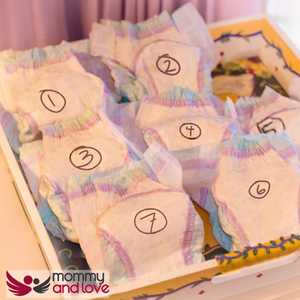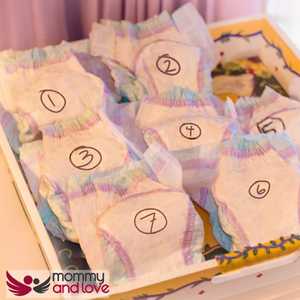 Baby showers are a fabulous way to celebrate a mom-to-be (or a shower focused on the dad-to-be) and her new arrival!
This type of shower doesn't come with a gift registry but is focused on diaper gifts like diapers, wipes, and other essentials.
The concept of a diaper shower is still relatively new, so many people still don't know what exactly it entails, and how can they hold the finest diaper shower for a friend or family member. We've discussed diaper parties for dads, now its the moms turn!
How Is a Diaper Baby Shower Different Than a Traditional Baby Shower?
A diaper baby shower is a baby shower where the guests bring diapers. And instead of gifts, they bring baby care necessities such as a diaper bag, gender-neutral baby gear, cloth diapers, disposable diapers and baby wipes. It's a party with a diaper theme. It usually has a diaper raffle, guests are invited via diaper party invitations and of course, there's a diaper cake! With all these gifts, parents are prepared when their new baby arrives!
A diaper party is a type of baby shower party is usually for first-time parents or a mom who is in need. The host can either request specific items or let the guests choose what they would like to bring to the diaper party.
Diaper baby showers are becoming more popular because they allow the parents to get what they need while also providing a way for friends and family to help out.
On the other hand, a traditional baby shower is a party to celebrate the upcoming birth of a baby. It is usually given by the mother's friends and family. The guests bring gifts for the baby and the parents. There is usually food, diaper cake and baby shower games at a traditional baby shower. The focus is on the parents and the baby, not on getting gifts for babies.
It is not uncommon for both baby shower and diaper-themed parties to be held on the same day.
How to Throw a Diaper Baby Shower
If you're expecting a baby, you're probably looking for ways to save money. One way to do that is to have a diaper party! Here's how to throw one:
Diaper Party Invitations
There are so many different ways to make a diaper party invitation that you can really let your creativity shine through. You can also make these invitations as simple or as complicated as you like.
Here are some great diaper party invitation ideas that will get your guests excited about the event:
One popular idea for a diaper party invitation is to create a cloth diaper with the words "Diaper Shower" on it. This can be done easily with an online custom printing service.
If you want to get really creative with your diaper parties, you can even make your own invitations. This can be done by printing out some cute diaper-themed graphics and attaching them to some cardstock. Then, just write out the details of the event on the back.
You are able to use different things in order to create beautiful and simple invitations, such as cut-out letters or even some stamps that you might have at home. Also, you can find many websites that offer templates for the invites, so that you can print them out at home without too much work needed on your part.
If you want something super easy for your diaper parties, just purchase blank diapers on Amazon and attach your invitation to the front of them with a ribbon. You can even purchase ones with the little tabs on them so they look even more realistic!
One of the best tips is to make your own diapers out of cardboard box paper if you don't have fabric or want to spend money on it. You can use card stock or regular printer paper, depending on how sturdy you want them to be. Just print out two copies of each piece at home and glue them together back-to-back for extra thickness or hold them together with tape if weight isn't an issue.
Diaper Shower Decorations Ideas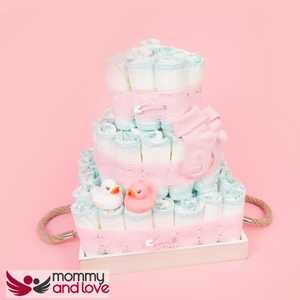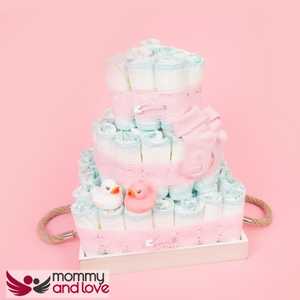 If you're looking for some inspiration on how to decorate for a diaper shower with balloons or diaper cakes, then look no further!
Here are some great diaper party ideas to help get you started with decorations:
One simple way to decorate for a diaper shower is with balloons. You can either go with all white balloons or mix them up and use different colors. If you want to get really creative, you can even try making your own balloon animals!
Another great idea for decoration is to use streamers. You can either hang them from the ceiling or drape them across doorways and windows. Again, you can either go with all white streamers or mix it up and use different colors.
If you want to add a personal touch to the decorations, you can try making your own diaper cakes. Diaper cakes are usually made out of rolled-up diapers and decorated with ribbons, bows, and other small baby items.
Diaper wreath. This is an easy project that looks great on the front door or greeting table at the shower. Simply roll up diapers, secure them with ribbon (in the same color scheme as the rest of your decorations) and use them to form a ring base for flowers or other additions.
Diaper boutonniere. A cute way to dress up a plain suit jacket, this boutonniere is made from a rolled-up diaper attached to a safety pin.
Diaper Shower Food Ideas
If you're planning a diaper shower, you'll want to make sure you have plenty of food to keep your guests happy. Here are some great ideas for diaper shower food that will please everyone.
One easy and popular option is to serve a variety of finger foods. This way, your guests can graze throughout the event without having to sit down for a formal meal. Some great finger food options include:
Vegetable or fruit platters
Cheese and crackers
Mini quiches
Wraps or sandwiches
Pita and hummus
Chicken skewers
If you want to serve something a little more substantial, you could opt for a buffet-style meal. This could include items like:
A selection of salads
Baked potatoes
Grilled chicken or fish
Roasted vegetables
Fresh fruit salad
Diaper Party Ideas – Games!
One of the best diaper party ideas is to add baby shower games! If you're planning a diaper party, you'll want to make sure you have some fun games lined up. Here are a few diaper games to get you started:
A Diaper-Changing Race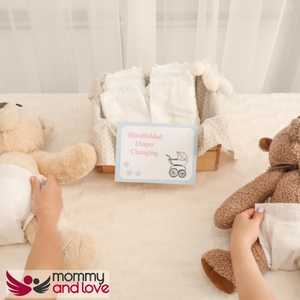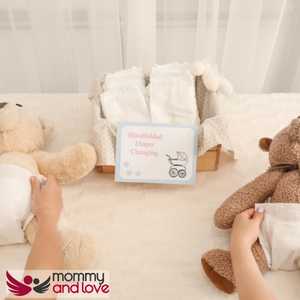 See who can change a baby doll's diaper the fastest! Who does it better?
Choose two of your guy friends and let them race against one another to see who is the best when it comes to changing a baby's diaper.
You can use melted candy bars as prop!
Diaper Trivia Game
A diaper trivia game is a great idea to test your friends and family's knowledge about all things baby. You can stick with traditional baby-related categories like labor and delivery, newborn care, or pregnancy dos and don'ts. The number of questions and categories will depend on how much time you want to spend playing. It's also a good idea to make it so the parents-to-be can't participate in the game since they're likely experts on all things baby at this point.
The Price Is Right Diaper Game
One of the most fun baby shower games that require no preparation at all, making it the perfect last-minute game for busy hosts. The Price Is Right Diaper Game is similar to how the TV version works. Each player needs a pen and pen, or whatever you have at hand. You need to give them each a piece of paper with a few items from the grocery store listed along with their prices. Tell them to guess how much they think each item costs as close as possible without going over (similar to the TV show). If you want to make things more interesting, place an object on top of a diaper or a diaper bag that players have to guess what it is and how much it costs.
Whatever games you choose, make sure to have some fun prizes on hand for the winners. Congrats on becoming a parent!
How Many Gift Diapers Should I Bring to a Diaper Party?
Buying diapers as a gift for a diaper party should not be difficult. For a baby shower diaper, it is a good idea to bring three to four jumbo packs of newborn and size 1 baby diapers. Most diaper brands contain at least 96 newborn diapers per pack. A pack or two will be more than enough for a newborn baby until he or she is ready for 2 size diapers. Until the baby is potty trained, parents would need as many diapers as they can.
There's no need to gift wrap diapers. And if you decide to bring disposable diapers, make sure to choose chlorine-free diapers. You can always ask in advance if they are planning on using cloth diapers, and if they have any lists made up!
What Is the Best Diaper Size for a Diaper Party?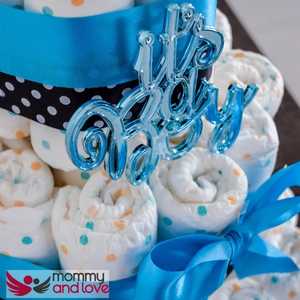 For diaper showers, you will want to make sure you have plenty of diapers in all sizes.
This way, the new parents can stock up on what they need and not have to worry about running out. And a diaper party is a good way to do this.
If you are unsure of what size to bring to a diaper party, it is always best to err on the side of caution and get the next size up. This way, the parents will have diapers that fit their baby for a longer period of time.
Conclusion
Hosting or throwing a diaper party shower for the new mom and child is a great theme and way to celebrate the upcoming arrival of a new baby. Not only do you get to stock up on diapers and other supplies, but it is also a great alternative to get to have some fun playing games and winning prizes at the party. Make sure to choose some fun games that will test your guests' knowledge about babies and parenting. And don't forget to have plenty of diapers on hand in all sizes!
This article was written by: Gian MIller – Full-Time Writer, Baby Whisperer & Dad of 3.
Gian spends a lot of his time writing. A self-proclaimed baby whisperer, Gian has been through it all with his own children and is passionate about sharing his hard-won wisdom with other parents. When he's not writing or changing diapers, you can find him playing the guitar or watching baseball (or preferably both at the same time).