Reusable Nappy Storage: How To Store, Wash and Dry Cloth Nappies
You may have only just got your head around the idea of using cloth nappies, and now you're thinking about reusable nappy storage- wet bag or nappy bucket for dirty cloth nappies? And what's the most convenient way to store the clean ones?
In this blog post we will look at how you should treat and store your cloth diapers, from when they come out of the washing machine all the way til they end up in a mesh laundry bag ready for the next wash!
How do I wash my nappies?
A lot of parents worry about washing cloth diapers, but with a little trial and error you will have a wash day routine pinned down in no time.
It's a good idea for mums and dads to get in to a good routine of removing and flushing down the toilet all poo from your cloth diapers before putting them in your wet bag or pail.
Simply pop your nappies into the machine straight from the bag or pail. Begin with a cold rinse, followed by your main hot wash. Follow manufacturer instructions when it comes to the temperature- most cloth diapers can be washed at 40-60 degrees. Make sure to give nappies plenty of space to tumble around the machine, it's this agitation which helps them get clean. Follow this wash with a final rinse to remove powder residue-you nappies should be clean and fragrance free!
What about drying them?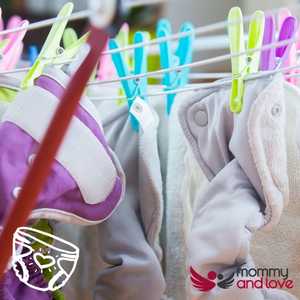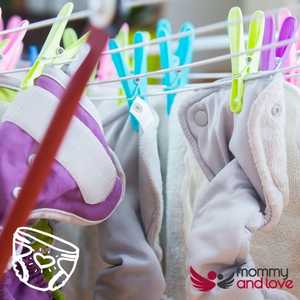 A common method of drying cloth nappies and inserts is to air dry them on a washing line or clothes airer inside the house.
Not only is this the most economical way, it also gives you the benefit of the sun bleaching the spots on the nappies if you hang them on the line.
Alternatively, many cloth nappy brands are suitable for tumble drying on a low heat. Always follow manufacturer advice.
How do I store the dirty nappies ready for washing?
You can store dirty nappies, inserts and wipes in wet bags or bucket- it's likely that any good baby shop will stock these. Most parents choose to store this in their bathroom, so that any poo can be emptied in to the toilet and the used nappy quickly put in to storage until wash day.
Other mums and dads like to keep the bucket in their utility room, so they don't have to worry about having to pull the full bucket far when it's time to wash. Where ever you choose, please note that it's a good idea to ensure that you are always storing dirty nappy buckets well out of reach of children!
What about when I'm out and about?
We often hear parents question how they will manage changing cloth diapers when they head out to the shop. The reality however is that if there's a room available for changing babies or children, you should find using a cloth nappy and wipes to be about the same as using disposables when out and about. Possibly easier, even, on account of the fact that you don't even need a bin!

Instead of needing to find a bin for the soiled diaper, the best advice is to bring zippy wet bags with you, storing the soiled diaper and wipes in there to lock away any scents or moisture until you're home.
How do you store clean reusable nappies?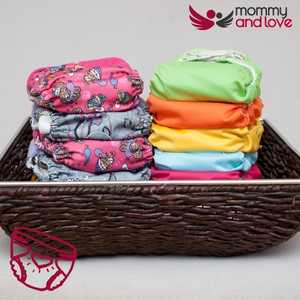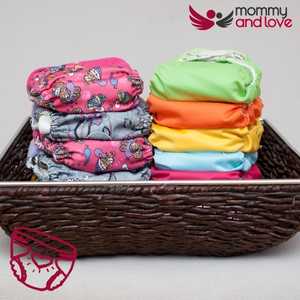 The options mainly fall into 3 categories. For those short on space using over the door shoe holder types, storing on your diaper changing table in a caddy or getting a storage unit to hold your diapers.
Short on Space Options
If you are short on space, then you can really get into something like a hanging shoe organizer for your diapers. This is a great way to store your diapers and have them at arms reach when you need them.
It might be worth getting 1-2, one for the diapers and then another for accessories like liners, boosters etc.
Another option for those short on space, is a storage ottoman. This will give you some extra storage and can double as a place to sit when changing your baby's diaper.
Finally, if you are really tight on space or don't want something taking up floor space in your nursery, you can go with a storage container or drawer that sits under the crib. This is also a good way to store extra blankets and sheets.
Diaper Changing Table Storage
If you are using a diaper changing table, there are lots of different caddies or holders that you can get to store your diapers.
A diaper caddy would be your first option and they come in a range of different styles from wood, to plastic and fabric. It really depends on how many diapers you want to store at one time, what style you like best or if you are going for something that is washable (for when spills occur).
Another option for diaper changing table storage is a hanging hamper. This can be a great way to store your diapers and keep them out of the way when you are not using them.
Storage Unit for Diapers
If you have purchased an excessive amount of cloth diapers, then you might want to consider getting a storage unit just for your diapers. This will allow you to store them all in one place, organised and out of the way.
The options are endless! You can get storage units with drawers or shelves and as always, it will depend on your needs as well as how many diapers you need to store. You can have one drawer for liners and wipes, a drawer for accessories and another for diapers.
A dresser looks great in the nursery and if you search hard enough, you can even pick up dressers to match your baby's bed and change table. This makes for a big purchase though- it may be worth it set up an account and email message your favorite companies to check if they offer discounts- for example a customer service subscribe and save discount code.
There are also storage units that can attach to the wall, which is a great way for those with limited floor space to keep their diaper collection well organised.
Reusable Nappy Storage: The Bottom Line
When it comes to nursery storage solutions, there are always new products on the market. You don't need specific diaper storage, it may be a dresser or underbed drawer in your baby's room- but it sure is handy to have a neat, organised space to store diapers for your baby.
You can even pick up furniture second hand or with sale or discount prices if you search carefully! Subscribe to emails from your favourite stores so you don't miss a bargain!
In terms of dirty diaper storage, if you only have one child, you will find that a nappy bucket and a couple of wet bags for when you are out and bout will suffice.
This article was written by: Gian MIller – Full-Time Writer, Baby Whisperer & Dad of 3.
Gian spends a lot of his time writing. A self-proclaimed baby whisperer, Gian has been through it all with his own children and is passionate about sharing his hard-won wisdom with other parents. When he's not writing or changing diapers, you can find him playing the guitar or watching baseball (or preferably both at the same time).